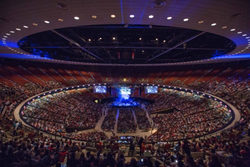 The theme of the event is to celebrate cultural diversity while promoting racial healing for the city and the nation.
Austin, TX (PRWEB) April 11, 2017
The Multi-church, non-profit organization ServeOurCity today announced that the April 14th Good Friday 2017 event taking place at the 16,000 seat Frank Erwin Center in Austin has officially sold out. A number of local companies in Austin are sponsoring the event, including H.E.B, Texas Disposal Systems, and Charles Maund Toyota.
Show producers have created a Facebook Ticket Exchange so that ticketholders with extra tickets can connect with those looking for tickets. Sponsorship opportunities which include tickets are still available at: http://www.GoodFridayATX.com.
The theme of the event is to celebrate cultural diversity while promoting racial healing for the city and the nation. Worship teams and pastors from more than 300 Churches in the greater Austin area will be in attendance. Seventeen different faith leaders are speaking at the event, and the service culminates with a full concert by multiple Dove Award and Grammy Award winning gospel superstar, Kirk Franklin.
Numerous Churches and corporate sponsors are helping to fund the event, which is free to attendees. Donations from attendees will also be accepted on site. This year, funds raised will benefit "Be the Bridge", an Austin-based organization that seeks to transform racial division by fostering vision, skills and the heart for racial unity. Be the Bridge creates partnerships with nation-wide and global organizations that have a heart for justice and diversity.
"We're honored and humbled to be part of the Good Friday 2017 event, and the support we receive will help us extend our mission to create the conversations and the opportunities needed to remove racial barriers that divide us," said Be the Bridge Founder Latasha Morrison. "We're looking forward to a fun night of learning, celebrating and giving back to our community."
Doors open at 4:30, The Good Friday 2017 service starts at 6:00 PM on Friday, April 14th.
Members of the media interested in reserving media credentials should contact Todd Keefe at For Immediate Release Public Relations.
About ServeOurCity:
ServeOurCity is a multi-church, non-profit organization that gathers and gives. We gather churches together all over Austin every year on Good Friday for a citywide worship experience and giving to local charities. To date, the organization has given more than one million dollars to well vetted non-profit organizations throughout the community. Anyone interested in joining ServeOurCity is invited to call (512) 220-6383, or email info(at)serverourcity(dot)com for more information.
Event Contact Information:
Jill Warren
Director of Outreach
ServeOurCity
jill(at)serveourcity(dot)com