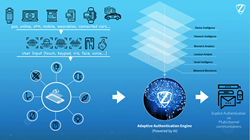 Zighra's patents - pending and granted will become increasingly relevant in emerging advanced authentication markets as sensors penetrate point-of-sale devices, ATMs, connected cars, and smart homes
Ottawa, Canada (PRWEB) April 12, 2017
Zighra, pioneers in the mobile and IoT behavioral biometrics market, has been awarded a patent for user-specific, context dependent authentication engine. US patent 9619852 fuses machine learning and dynamically-weighted contextual information modified over time, based on adaptive learning. This contextual information includes the user's physical location, their physical movements of an authenticating device, behavioral, biometric, and other information.
Zighra's authentication method, at the core of its KineticID solution, improves security, reduces fraud, and maintains privacy in a broad array of applications and uses, including enterprise computing, online and mobile commerce and banking, among others. From a user perspective, KineticID operates in in the background in an unobtrusive, frictionless manner. From a system perspective, KineticID provides an additional layer of automated authentication verification that dramatically reduces authentication fraud, credential theft, and account takeover.
"Zighra's IP portfolio was boosted by its recently granted patent entitled Context-Dependent Authentication System, Method and Device, which covers technologies such as AI, sensor analytics, and behavioural biometrics to provide continuous, adaptive authentication capabilities for any application, any transaction, and any kind of connected device - including mobile, wearables, connected vehicles, and IoT devices. " said Deepak Dutt, CEO of Zighra. " It opens the door for more secure and frictionless user authentication for anyone, in potentially any situation. The patent covers the use of Zighra's technology to significantly authenticate in a broad array of major market use cases such as mobile banking, enterprise authentication, online commerce, and device locking."
The patent comes just a few months after the company successfully closed its latest funding round. Zighra is a 2016 graduate of Barclays TechStars fintech accelerator and is working with leading financial institutions across Canada, USA, and the UK. This patent solidifies the company's position as an innovation leader in mobile and IoT behavioural biometrics.
"Today's marketplace is growing increasingly competitive with the introduction of new sensor based technologies almost daily, and the most successful businesses will be those who leverage their intellectual property to give customers the assurances they are looking for when buying technology based products and services," said Mr. Dutt. "Zighra's patents -pending and granted will become increasingly relevant in emerging advanced authentication markets as sensors penetrate point-of-sale devices, ATMs, connected cars, and smart homes," he said.
About Zighra:
Zighra provides effortless, automatic, and instantaneous user recognition by adding an invisible biometric layer to authentication for enterprise, online, mobile, and IoT systems. We aim to apply the intelligence of biological systems to security to deliver continuous authentication and fraud detection with swipe-and-go simplicity. Zighra's flagship product KineticID powers users in over 70 countries on over 700 smart device types.