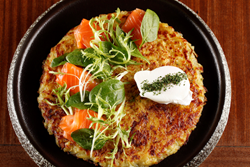 From light and simple to savory and sophisticated, Coffeemania's breakfast and brunch items include Avocado toast on grilled sourdough, Eggs Benedict with a choice of ham or salmon, and Steak & Eggs.
New York, NY (PRWEB) April 11, 2017
The newest addition to Bryant Park's restaurant landscape, Coffeemania, launched daily breakfast and weekend brunch programs today with diverse menu options. Classic egg dishes are reimagined alongside signature creations like Skillet Baked Eggs, sweet and savory crepes and Syrniki, warm vanilla fritters, as well as house made granola and locally sourced yogurt. Coffeemania's brunch menu also features special highlights from the restaurant's tantalizing established lunch menu, as well as new dishes including Steak & Eggs and Lobster Roll. Breakfast and brunch items are complemented by the restaurant's extensive beverage program of over 40 coffees and teas, as well as fresh pressed juices, smoothies and European-style spritzers.
"We are delighted to now offer breakfast and brunch to our guests," said Evgeny Zhuravlev, Director of International Business Development, Coffeemania. "The new menus showcase our culinary staff's exceptional range in creating authentic, classic breakfast dishes while also proposing fresh, new morning items unique to New York City's breakfast and brunch scene."
From light and simple to savory and sophisticated, Coffeemania's breakfast items include Avocado toast on grilled sourdough, Eggs benedict with a choice of ham or salmon, Draniki, a traditional Russian potato pancake served with Skuna Bay salmon, Skillet Baked Eggs, Syrniki, vanilla cottage fritters with crème fraiche and raspberry sauce, Salmon & Cream Cheese crepes, Baked Apple crepes, housemade granola and locally sourced yogurt, oatmeal and millet.
Standout items from the new brunch menu include Steak & Eggs, a hanger steak served with quinoa and Brussels sprouts, Lobster Roll served with shiso and crystalized wasabi and Chorizo Sausages served with mashed potatoes and broccolini.
"As with our lunch and dinner menus, the breakfast and brunch items reflect Coffeemania's commitment to seasonality of ingredients and our continuous response to the growing trends and interests of our guests," said Zhuravlev.
The new breakfast and brunch menus are perfectly paired with Coffeemania's house-roasted coffee beverages which include a wide variety of over 40 choices from the classically executed Cappuccino, Cortado and Flat White to more whimsical creations like the Latte Singapore, a latte incorporating house made lemongrass syrup; the Raf Coffee, renowned for its lush, sweet cream addition to the classic Americano; and Latte Halva, a latte offering a delectable honeyed sesame foam milk topping. Coffeemania's extensive tea menu sources leaves from all over the globe and special blends include Four Seasons oolong, Matcha & Sencha and infusions like Sea Buckthorn and Mango & Passion Fruit.
Breakfast will be offered weekdays from 8:00 a.m. to 11:00 a.m., while guests may enjoy brunch on Saturdays and Sundays from 10:00 a.m. to 4:00 p.m.
Walk-in guests for breakfast and brunch are welcome and reservations may be made at info(at)coffeemanianyc(dot)com or by phone at (212) 221-2510.
Social Media:
Facebook: https://www.facebook.com/CoffeemaniaNYC/
Instagram: @CoffeemaniaNYC
Twitter: @CoffeemaniaNYC
Address:
1065 Avenue of the Americas (at 40th Street)
New York, NY 10018
Restaurant Hours:
Monday - Thursday:
Breakfast 8am - 11am
Lunch 11am - 4pm
Dinner 4pm - 10pm
Friday:
Breakfast 8 am - 11 am
Lunch 11 am - 4 pm
Dinner 4 pm - 11 pm
Saturday:
Brunch 10 am - 4 pm
Dinner 4 pm - 11 pm
Sunday:
Brunch 10 am - 4 pm
Dinner 4 pm - 10 pm
Images: https://www.dropbox.com/sh/751a38ea7vm05jh/AACe_mAPk0LBDuNFskEuBLu5a?dl=0
About Coffeemania
Providing a fresh approach to Contemporary American cuisine, Coffeemania serves up seasonal fare in an all-day dining environment in the heart of New York City's Bryant Park. The first overseas location of the popular Moscow restaurant group, Coffeemania provides innovative breakfast, lunch and dinner menus. Dessert menus feature patisserie created on site in the classic French tradition. Coffeemania's diverse beverage program includes artisanal cocktails, fruit and vegetable blends, spritzers and one-of-a-kind coffee beverages prepared by its award-winning barista team. Coffeemania provides a warm environment where guests can feel welcome whether they want to enjoy a single cup of espresso or a complete dining experience. For more information please visit http://coffeemanianyc.com/.
Media Contacts:
Emily Baldwin
Principal, 2BPR
emily(at)2bprinc(dot)com
973.346.2580
Alison Sager
Director, 2BPR
alison(at)2bprinc(dot)com
646.266.0387