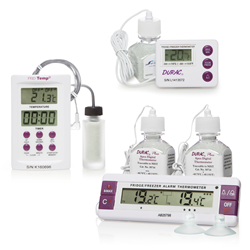 Offering thermometers calibrated at the most frequently requested points saves users both time and money.
Wayne, NJ (PRWEB) April 13, 2017
Factory calibrated instruments eliminate the need for expensive, time consuming custom calibration. H-B Instrument – SP Scienceware now stocks Electronic Verification Thermometers calibrated specifically for Freezers, Refrigerators and Incubators.
"Better service for our customers is our top priority, so offering thermometers calibrated at the most frequently requested points saves users both time and money," explains Laura Geenen, Director of Product Management for SP Scienceware. "Rather than purchasing a thermometer calibrated at general points and sending it in for custom calibration, customers can now order the temperature range and calibration points specific to these common applications right off-the-shelf."
Equipped with liquid or glass bead filled bottles which mimic the sample, these thermometers deliver temperature verification without the risk of sample contamination. Multiple models are available with features including dual zone, single or multiple displays, alarms and more.
H-B FRIO-Temp® Calibrated Electronic Verification Thermometers are priced from $127.80 to $168.90 depending on the temperature range and number of calibration points. General calibration at 0˚ and 50˚C or 0˚ and 100˚C are also available and range in price from $67.70 to $100.95 and include models suitable for ovens.
For more information on the H-B Frio-Temp Calibrated Electronic Verification Thermometers for Freezers, Refrigerators, Incubators, and Ovens, or the complete line of laboratory offerings from Bel-Art – SP Scienceware, call 1-800-423-5278, email info(at)belart(dot)com or visit http://www.belart.com. To download catalogs from any of the SP Scienceware brands (Bel-Art, H-B Instrument or Wilmad-LabGlass), visit http://www.belart.com/catalogs.
Research, industrial and healthcare professionals rely on SP Scienceware for their sample handling needs. Sold worldwide, Bel-Art and H-B Instrument brand laboratory supplies include over 5,000 items from safety wash bottles to fume hoods, thermometers, racks, desiccators, hydrometers, ice buckets, scoops and spoons. Custom calibration services, plastic molding, specialty coatings and wire manufacturing are also available. Wilmad-LabGlass brand laboratory glassware complements Bel-Art and H-B Instrument with over 7000 items including NMR and EPR consumables and specialty glassware, as well as custom fabrication for individual glassware, glass repair services and OEM glass parts.
SP Scienceware is a division of Warminster, PA based SP Industries which also include SP Scientific laboratory, thermal management, and pharmaceutical production equipment and SP Ableware aids for daily living.