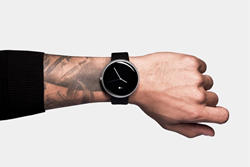 "We found there were not affordable options for smartwatches, so we wanted to create a smartwatch at a reasonable price for consumers that didn't lack design or quality with affordability."
Cork, Ireland (PRWEB) April 11, 2017
Dagadam is a new kind of smartwatch that offers Android and iOS compatibility. They launched their campaign on Kickstarter with a funding goal of $100,000 on March 20th. Dagadam had raised 70% of their funds in the first 24 hours and was fully funded by March 26th. They continue their crowdfunding efforts on Kickstarter with 27 days left in their campaign.
With Dagadam, users are able to download apps from the Ticwear app store, developed by Mobvoi, a china-based company, specializing in mobile voice technology. Dagadam began their partnership with Mobvoi in February. Their app store allows easy navigation through information and built-in apps. The app store features over-the-air updates that go directly to the watch, as well as API capabilities for developers. The watch is also equipped with Tico voice assistant, from Ticwear, that will listen and perform spoken commands in English or Mandarin. Users are also able to connect Dagadam with Amazon's Echo for additional capabilities.
"We found there were not affordable options for smartwatches, so we wanted to create a smartwatch at a reasonable price for consumers that didn't lack design or quality with affordability," said Chief Executive Officer, Mandu Dragos. "We're very pleased with Dagadam's success so far and look forward to bringing a new smartwatch to the market."
Dagadam has made it simple to connect any smartphone that runs on Android or iOS software. The smartwatch uses AI technology to make Dagadam truly a smartwatch. The notification center analyzes and learns the way users interact with notifications and sorts future notifications according to specific preferences and habits. Dagadam is the first smartwatch to have a SENSE touch bezel. It is a sleek touch-sensitive ring located around the outer edge of the watch face. This ring makes it easier to perform tasks such as zooming in on photos and changing the volume and brightness.
Dagadam supports multiple languages, so users are able to view notifications in other languages like English, Chinese, Hebrew, Russian, Arabic, German and Italian. Dagadam is also water resistant with an IP67 rating, meaning it can withstand being fully submerged in 3.3 feet of water, so users can track their workout in the pool.
The Dagadam watch, which is available to backers on Kickstarter at discounted prices, starts at only $187. Retail price for the watch will start at $289 after the campaign. The Dagadam team is scheduled to begin distribution in June. For more information on Dagadam, visit the campaign at bit.ly/DagadamKS.
About Dagadam, LTD
Dagadam, LTD is an Irish-based startup founded in Cork, Ireland in 2015 by Mandu Dragos and Bogdan Daragiu. The idea came from wanting to create a platform that would provide news in a futuristic way. By studying activity analysis algorithms in addition to artificial intelligence, this idea transformed into a HUB that could provide news, notifications, alerts, messages, and calls, efficiently. Dagadam LTD has a partnership with Mobvoi, licensing Ticwear for its Dagadam Watch. Mobvoi, founded in October 2012, is the only AI company that has developed Chinese
voice recognition, natural language processing, and vertical search technology in-house. For more information, visit http://www.dagadam.com