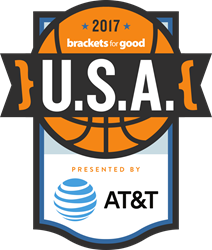 Brackets For Good provides a unique opportunity for nonprofits to raise awareness for the causes they champion and connect with donors – existing and new – in a fun and innovative way.
INDIANAPOLIS - (PRWEB) April 12, 2017
The first-ever nationwide online bracket-style fundraising competition, Brackets For Good USA, presented by AT&T, comes to a thrilling close with Allied Arts of Oklahoma, City, Okla. clinching the national championship title and a $100,000 contribution as a result of AT&T's support.
In Brackets For Good tournaments, participating nonprofit organizations rally enthusiastic donors to out-fundraise their opponents in order to advance through a bracket-style tournament. Online donations of dollars from supporters translate to points, giving charity participants the opportunity to advance in each market bracket. Competing nonprofits keep donations received during tournament play no matter how many rounds they advance.
Playing from Division Four--the division made of the relatively smallest charitable organizations--Allied Arts had a difficult road to the Brackets For Good championship round with matchups against The Commit! Partnership and Rise Against Hunger requiring them to rally the support of the entire state of Oklahoma to advance through each round. In true Cinderella story fashion, Allied Arts clinched the National Champion title after out-fundraising runner-up Shatterproof in the most intense matchup of the entire tournament. The two organizations raised $339,404 in just the three-day championship round.
In addition to being named the national champion of the first-ever Brackets For Good USA tournament presented by AT&T, Allied Arts generated significant new awareness of their organization, met new donors, raised $340,044 for their cause in the tournament, and will receive an additional $100,000 championship contribution thanks to AT&T.
"We are thrilled to be named the national champion of the inaugural national Brackets For Good tournament," said Deborah McAuliffe Senner, Allied Arts president and CEO. "The entire state of Oklahoma rallied behind our efforts, pledged support and cheered us on. With the added awareness, generous donations and champion contribution from AT&T, we're even more equipped to provide art experiences for Oklahoma students across the state."
"Brackets For Good provides a unique opportunity for nonprofits to raise awareness for the causes they champion and connect with donors – existing and new – in a fun and innovative way," said Beth Shiroishi, vice president, Global Corporate Social Responsibility, Strategy & Insights at AT&T. "Teaming up for the first-ever USA tournament allowed us to use the power of our network to scale this opportunity nationwide, and we are amazed by all that the 64 participating nonprofits accomplished through the tournament."
In the 11 city-based tournaments and the nationwide tournament in 2017, $3,668,789 was raised for 682 charities across 31 states. A staggering 31.6% of the dollars raised by nonprofits during the 2017 tournament came from first-time donors to those organizations. Further, in 2017 alone there were 153,956 nonprofit stat sheet views, meaning participating organizations gained significant new awareness of their causes and thousands of people became more aware of charitable causes doing work to make our world a better place. Since the inaugural Brackets For Good tournament in Indianapolis in 2012, more than $6.4 million has been raised for charities through competitive giving with Brackets For Good.
"Brackets For Good tournaments are about much more than raising dollars. They're about shining a spotlight on the amazing organizations working hard everyday to improve our communities," said Matt McIntyre, co-founder and executive director of Brackets for Good. "The energy and the excitement attracts new fans of philanthropy and gives existing fans a unique way to rally around the causes they care about. As a result, participating organizations are more equipped to further their missions with engaged supporters and raised awareness."
"Allied Arts put Oklahoma City on the map this week," said Oklahoma City Mayor Mick Cornett. "It is great to see everyone support the thriving artistic community that makes our city a great place to live and work."
Additionally, sports celebrities- including NFL players, former NBA players, sports broadcasters and reporters, a WNBA player, medal winning Olympic athletes, a former NHL player and NCAA champions joined the team in 2017 to add to the tournament hype and shine more light on the participating charitable organizations and their missions: https://youtu.be/nFwbjWrrrPo
"Brackets For Good exists because we believe the world is a better place when more people discover charitable organizations that align with their values and then become fans in support of those organizations," said Reid McDowell, partnerships and marketing director of Brackets For Good. "The 2017 tournament is a testament to the power of sport to generate social good. It's competitive giving; everybody wins."
The 2017 nonprofit champions have been crowned, but the Brackets For Good team is already gearing up for the 2018 tournaments that will tip off March 2, 2018. 501(c)3 nonprofit organizations interested in being considered for selection to participate can register here before the deadline: bfg.org/nonprofits/registration
About Brackets For Good
Brackets For Good is an Indianapolis, IN based 501(c)3 charitable organization focused on activating new donors, and increasing awareness for other nonprofit organizations through competitive, online fundraising at no cost. Since the inaugural tournament in 2012, new awareness, fundraising capacity, and over $6.4 Million dollars has been raised for hundreds of charitable organizations across the country in an innovative and fun way. For more information, visit bfg.org.
About Allied Arts
As a United Arts Fund, Allied Arts works to broaden support for the arts by raising financial support for cultural organizations, encouraging participation and attendance, advocating for arts education and promoting excellence in the arts and arts management. Since its founding in 1971, the organization has raised more than $60 million to advance the arts in central Oklahoma. For more information, visit alliedartsokc.com.
# # #
**FOR IMMEDIATE RELEASE**
Media contact:
Courtney Alvey
317.602.7137 ext. 2062
calvey(at)bohlsengroup.com
Reid McDowell
317.855.0234
reid(at)bfg.org