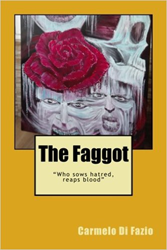 It was obvious that the unusual question had deeply penetrated the grandfather, so much so that it tore apart his soul.
New York (PRWEB) April 12, 2017
After the resounding success obtained in its Spanish version (El Marica), it is now available for the English language at Barnes and Noble Bookstores. During 2014 and 2015, "The Faggot," the second of the three books by Italian-Venezuelan author Carmelo Di Fazio @carmelodifazio (translated by Concetta Scarfone), was the best-seller in Venezuela with four editions, allowing him to cross borders and be published in Colombia by the famous Oveja Negra publishing house and in Spain by ECU, with more than 50 thousand copies sold. It has come to be considered as a hymn against homophobia by the LGBT community of Venezuela, a country shaken by a tremendous crisis.
The novel is set in the civil war of Spain, at the closing of 1939, when a captain of the army of Franco executes four political prisoners, among them a professor of the University of Madrid. Unsuspectingly, Benitez, the cruel Francoist soldier, blows the brain of Professor Castellanos in the public square and in front of hundreds of witnesses, while his secret lover, the student Iribarren, watches the savage and cowardly execution for the simple fact of being gay. The intolerance of the time marks with blood the entire plot. From there spawned the revenge of the future priest.
It is a work with a high content of intrigue, social drama, a revenge too intelligent, unorthodox, but especially sadistic, psychological, and cruel. Throughout the pages the reader can discover the moral rot of Spain after the war, the double moral of a society seduced by the power of The Church and the military, a society full of taboos and especially homophobic at its highest level. It is a love story as special and sublime as life itself.
As a point of information, the film and television rights have already been sold to a production company in Miami for the Spanish version and its premiere is expected at the beginning of 2018. Without a doubt, because it is a production of an era and for the quality of its script, it is possible to be an aspirant to very positive reviews allowing it to compete worldwide.
Readers wishing to purchase the novel "The Faggot" may do so at Barnes and Noble and Amazon, as well as at major bookstores in the country.