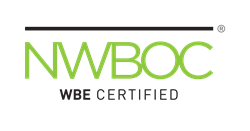 Alexandria, VA (PRWEB) April 12, 2017
VIPdesk Connect, a U.S. based provider of outsourced customer care services for luxury brands, received national certification as a WBE (Woman Business Enterprise) and is officially certified as a woman-owned and woman-controlled business by the NWBOC (National Women Business Owner's Corporation).
The NWBOC was created in response to research conducted by the Procurement Special Interest Group of the National Association of Women Business Owners (NAWBO); subsequently, they became the first organization to create a national certification program for women-owned businesses.
The certification process involves an in-depth review of the business that is seeking certification. The certification process is designed to confirm that the business seeking certification is at least 51% owned, operated and controlled by a woman or women who are US citizens or lawful permanent residents.
"We are very excited to receive this recognition and provide this certification as a service to our clients who are committed to diversity," said Sally Hurley, CEO of VIPdesk Connect. "We welcome the increased visibility and additional opportunities this certification brings, specifically for companies with Supplier Diversity Programs."
By including women-owned businesses among their vendors, corporations and government agencies demonstrate their commitment to fostering diversity as well as the continued development of their supplier/vendor diversity programs.
To learn more about VIPdesk Connect, please visit http://www.vipdeskconnect.com.
About VIPdesk Connect
VIPdesk Connect, Inc. ("VIPdesk"), a U.S. based provider of outsourced customer care services, utilizes a team of Brand Ambassadors (customer service professionals) located throughout the U.S. to provide elevated customer experiences for admired brands. Talented team members of VIPdesk not only excel in delivering superior customer service; but are passionate ambassadors of the brands they serve. VIPdesk's suite of services include: customer service (via inbound phone, email, chat and SMS/text), social media management, back office support and customer experience consulting. To find out more about VIPdesk Connect, visit http://www.vipdeskconnect.com
About NWBOC
Founded in 1995, National Women Business Owners Corporation (NWBOC) leads the way as the nation's first national WBE certifiers. The goal of NWBOC is to increase competition for corporate and government contracts through implementation of a national certification program for women business owners. NWBOC is located at 1001 W. Jasmine Drive, #G, Lake Park, Florida 33403. The web address is http://www.NWBOC.org.