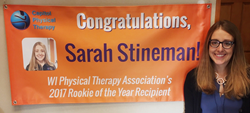 I am honored and grateful to have been chosen by the WPTA to receive such a distinguished award.
Madison, WI (PRWEB) April 17, 2017
Capitol Physical Therapy is proud to announce that Dr. Sarah Stineman, PT, DPT, OCS, has been selected by the Wisconsin Physical Therapy Association (WPTA) as this year's recipient of the WPTA Rookie of the Year Award. The WPTA Rookie of the Year Award is awarded annually to a member of the WPTA who has made significant contributions to the physical therapy profession in the areas of clinical practice or service within three years of graduation from an accredited PT or PTA program. This award also acknowledges an individual WPTA member in good standing who has made outstanding and enduring contributions to the practice of physical therapy.
Dr. Stineman received this award by proving her dedication to her profession at the state level. Currently, she serves as Wisconsin's Federal Affairs Liaison for the WPTA, and is an active member of WPTA's Technology Committee. She is a past recipient of WPTA's Student Emerging Leader Award. On a national level, Dr. Stineman is past recipient of the APTA Outstanding Student Award and served on APTA's Health Policy & Administration Student Mentorship Program.
Sarah is also a leader in her current position as Assistant Director of Capitol Physical Therapy's Madison location, and in 2016 was recipient of Capitol PT's Above & Beyond Award. She leads her team by example with clinical excellence, professional fortitude and integrity.
Dr. Stineman holds a Doctor in Physical Therapy from the University of Wisconsin-Madison and completed an orthopedic residency at the University of Wisconsin Hospital and Clinics and Meriter Hospitals. She has received training and earned the professional designation of Orthopedic Certified Specialist (OCS). This board-certification is granted by the APTA's American Board of Physical Therapy Specialists (ABPTS) and only 3.9% of therapists in the United States are Orthopedic Certified Specialists. This board-certification involves rigorous application and examination processes and provides assurance to patients and the medical community of Dr. Stineman's skills and abilities. She is recognized for advanced knowledge, experience, and skills in the practice of orthopedic physical therapy and the conditions affecting bones, joints, ligaments, tendons, muscles, and nerves.
"I am honored and grateful to have been chosen by the WPTA to receive such a distinguished award, and I am also grateful to Capitol Physical Therapy for supporting me in combining my passions of clinical care, leading others, and to better the field of physical therapy through my work with our state and national associations," said Stineman. Stineman was honored at a ceremony and reception at the Radisson Hotel in Green Bay, Wisconsin on April 20th, 2017. For more information on the award, please visit the WPTA website.
About Capitol Physical Therapy
Since 2004, Capitol Physical Therapy has been delivering patient focused therapy to the Dane County area, and they are now touching lives each day in Verona, Mount Horeb, Madison, and Sun Prairie. Patients continue to experience the same unparalleled customer service and outstanding results they received when the doors opened. Capitol Physical Therapy remains committed to providing 'expert care without the wait'. For more information, please visit http://www.capitolphysicaltherapy.com. You can also find Capitol PT on Facebook, Instagram, LinkedIn, and Twitter.