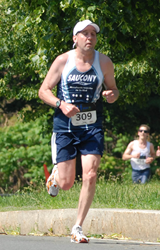 On one of sport's biggest stages, these runners are proving the potential of people with disabilities everywhere.
Brookline, MA (PRWEB) April 12, 2017
Which Boston Marathon team will have the biggest impact this year? We make a case for the inspirational Team With A Vision (TWAV), whose blind and visually impaired runners (and their sighted guides) include nationally and world-ranked elite runners with serious credentials. A few of the team's standouts are looking to make impressive runs this year.
Kurt Fiene is notably one of the top 500 fastest athletes taking part in the Boston Marathon, with a PR of around 2:50. Unlike the other runners in his corral, Fiene was born without irises. He has no vision in his right eye, and 20/400 vision in his left. He started running after graduating from college, and in 1994, he competed at the International Paralympic Committee World Championships, taking home bronze, silver, and gold medals. "My main goal with running is to promote causes for the visually impaired," Fiene says. "I want to give back to organizations that have helped me in my life." A former Men's Blind American Marathon record holder, Kurt is sure to set a blistering pace this year.
Aaron Scheidies has overcome more in his short life than many conquer in a lifetime. Born with a hereditary eye condition that slowly deteriorates his central vision, Aaron now has about 15% of the vision of a fully sighted person. Aaron has won the Men's Visually Impaired (VI) Division in the Boston Marathon the last three years, and has come close to breaking the Men's Blind American Marathon record time. He and Kurt Fiene have a friendly rivalry that spectators will be watching closely this year.
Having traveled around the globe and competed in nearly 250 triathlons, Aaron is a 7-time World Champion Paratriathlete, 8-time National Champion Paratriathlete, and 2011 ESPY Finalist. He was named 2013 Paratriathlete of the Year by USA Triathlon. Aaron also chairs his own organization to raise funds for disabled causes and inspire disabled people to pursue their own dreams.
Aaron has been featured in such magazines as GQ, Esquire, Competitor, Runner's World, Time, People, ESPN the Magazine, and Men's Health. Aaron is looking to defend his title, and post another Men's VI Division victory.
Randy Pierce has faced his challenges in a big way—even after being rendered blind and confined to a wheelchair by a neurological disease at 22 years old. He learned to walk, then run, again. He has been featured in numerous media outlets, including HBO's Inside the NFL—even inducted into the VISA Hall of Fans at the Pro Football Hall of Fame for his devotion to the New England Patriots—and was named one of Oberto's "Heroes of Summer" for his Tough Mudder performances in 2015.
A sports enthusiast with a 2nd-degree black belt in karate, he became the first blind hiker to summit all 48 of the New Hampshire 4,000-footers during the summer and winter. Never one to rest, last fall, with the support of his guides, Randy climbed Mount Kilimanjaro. In 2015 he ran his first Boston Marathon as a member of Team With A Vision. Last year, Randy was one of six to take part in Ragnar's "Reach The Beach" New Hampshire Ultra-Distance All-Visually Impaired team. His passion for new experiences continues to encourage him to turn adversity into growth and opportunity, inspiring others to reach their peak potential.
2017 will mark the 25th consecutive year in which MABVI has fielded Team With A Vision for the Boston Marathon. The Team's runners come from all over the United States, as well as Canada, France, and the United Kingdom.
"Each year we are honored to bring these incredible athletes together to compete in this historic race," said Barbara Salisbury, CEO of the Massachusetts Association for the Blind and Visually Impaired (MABVI). "On one of sport's biggest stages, these runners are proving the potential of people with disabilities everywhere."
To learn more about Team With A Vision, visit mabvi.org/teamwithavision.
ABOUT MABVI:
The Massachusetts Association for the Blind and Visually Impaired has been creating opportunities for people with vision loss since 1903. Their experience allows them to forge strong community partnerships to meet the pressing need for high quality services, and transform lives. Visit mabvi.org to learn more.