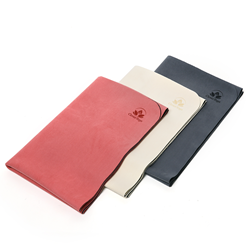 Yoga might make you sweat, but you shouldn't have to clean it up
Tampa, Florida (PRWEB) April 12, 2017
The end of a relaxing yoga routine shouldn't include wiping loads of sweat from the mat, but often this is exactly how most yogis end their yoga sessions.
But they won't have to much longer!
Clever Yoga will be releasing a brand new, revolutionary yoga mat that can be thrown right into the washing machine and dryer. The YogiOnTheGo mat is designed to travel with yogis wherever they choose to practice yoga. It is foldable and weighs less than two pounds!
This new travel mat is 1 mm thick and 24" x 71" so it can function as a mat topper or a stand alone mat. Like all Clever Yoga products, the new travel mat is eco friendly. The bottom is made from natural tree rubber so it sticks to the floor. The mat is 100% recyclable, biodegradable and made of odorless material. There is a waterproof layer in between that will absorb sweat from even the most intense Bikram yoga practice. Your main mat or the floor will remain dry even if you sweat like crazy. And the mat will remain stuck to the floor without sliding around no matter what!
And the best news is that the cleanup is as easy as 1-2-3. Throw the mat in the dirty laundry, wash and dry just as anyone would with a regular towel. Just like that, the yoga mat is like brand new! It is durable and will stand the test of time no matter how often it is used, how much sweat it has absorbed or what type of yoga it is used for.
Clever Yoga plans to release the YogiOnTheGo revolutionary foldable and washable yoga mat to the market in about a month. Everyone will be able to find it on their website and Amazon store.
About Clever Yoga
Clever Yoga is an innovative woman-owned and operated company, based in Tampa, Fla.
Clever Yoga aims to offer superior, reliable products that make a difference in customers' lives. The Clever Yoga team uses meticulous market research and strict quality control and testing to create high-quality products.
Recently, the company has launched an online store using the largest online retailer, Amazon, as their platform. CleverYoga's online store can be found on Amazon.
Established in 2014, Clever Yoga's mission is to provide reliable, high quality yoga equipment, as well as excellent customer care.