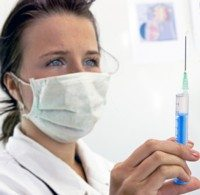 Clinical activity was observed in patients with poor-prognosis tumors
Raleigh, NC (PRWEB) April 12, 2017
Scientists in the UK say people whose mesothelioma tumors are unable to synthesize arginine (ASS1-negative) may be sensitive to a promising new kind of combination therapy. Surviving Mesothelioma has just posted an article on the new research. Click here to read it now.
Researchers at Cambridge University and several London hospitals treated nine people with either malignant mesothelioma or non-small cell lung cancer with a treatment combination of ADI-PEG20 and standard chemotherapy.
The report published in the Journal of Clinical Oncology found that patients with so-called ASS1-negative tumors saw a response to the treatment, suggesting that the enzyme could be a helpful addition to mesothelioma therapy, especially for people with hard-to-treat sarcomatoid and biphasic mesothelioma subtypes.
"In this biomarker-selected group of patients with ASS1-deficient cancers, clinical activity was observed in patients with poor-prognosis tumors," concludes lead researcher Emma Beddowes of Cambridge University.
"Given that sarcomatoid and biphasic mesothelioma tumors are even less likely to respond to standard therapies than the more common epithelioid subtype, this is especially welcome news," says Alex Strauss, Managing Editor for Surviving Mesothelioma.
You can read all of the details of the study, including an explanation of how ADI-PEG20 is believed to work in New Combination Treatment for Rare Mesothelioma Subtypes, now available on the Surviving Mesothelioma website.
Beddowes, E, et al, "Phase 1 Dose-Escalation Study of Pegylated Arginine Deiminase, Cisplatin, and Pemetrexed in Patients With Argininosuccinate Synthetase 1-Deficient Thoracic Cancers", April 7, 2017, Journal of Clinical Oncology, Epub ahead of print, http://ascopubs.org/doi/abs/10.1200/JCO.2016.71.3230
For more than a decade, Surviving Mesothelioma has brought readers the most important and ground-breaking news on the causes, diagnosis and treatment of mesothelioma. All Surviving Mesothelioma news is gathered and reported directly from the peer-reviewed medical literature. Written for patients and their loved ones, Surviving Mesothelioma news helps families make more informed decisions.