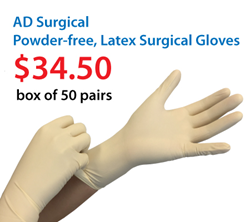 The new powder-free latex surgical gloves from AD Surgical are a great alternative for health care professionals.
Santa Clara, CA (PRWEB) April 13, 2017
Today AD Surgical announced the addition of a new line of premium powder-free latex surgical gloves to their growing portfolio of surgical products. AD Surgical latex surgical gloves are made from ergonomic molds that helps reduce hand fatigue during operation. Straight finger design and wet donning ability make them very easy to don either with dry or damp hands.
FDA banned the use of powdered gloves in health care on January 18, 2017. Dentists, physicians and other health care professionals will no longer be allowed to use powdered gloves when treating patients, per a rule finalized on December 16, 2016 by the U.S. Food and Drug Administration.
The ban prohibits the manufacturing, sale, distribution and use of (1) powdered surgeon's gloves, (2) powdered patient examination gloves and (3) absorbable powder used to lubricate surgeon's gloves because, "They pose an unreasonable and substantial risk of illness or injury to health care providers, patients and other individuals who are exposed to them."
Powder is added to gloves to make it easier to put them on and remove them. However, this powder is associated with an extensive list of potential serious events, including airway inflammation, wound inflammation and post-surgical adhesions, according to the FDA. The agency reasserted that non-powdered alternatives to powdered gloves provide similar protection, dexterity and performance, but without the risks associated with powdered gloves.
With excellent quality and value-priced at only $34.50 per box of 50 pairs, the new powder-free latex surgical gloves from AD Surgical are a great alternative for health care professionals. For more information or to purchase this new product, please visit AD Surgical's website at http://www.ad-surgical.com or contact their customer service at (888)841-8481.
About AD Surgical
As the prices of surgical products continue to skyrocket, surgeons are looking for more cost effective solutions without compromising quality. AD surgical was established in 2000 to provide the highest quality surgical essentials at very reasonable prices. All of their products are designed and developed in the United States by a team of licensed medical professionals. 90% of their products are manufactured in their own manufacturing facilities, which allow them to offer quality products at factory direct prices that are up to 80% lower than that of competitors. More information is available at http://www.AD-Surgical.com.