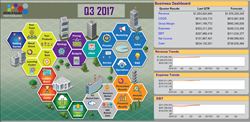 We designed the simulation to take the complexity and mystery out of business.
Conshohocken, PA (PRWEB) April 12, 2017
Advantexe Learning Solutions, an award-winning global leader in business simulation-centric learning, today announced the launch of a new and innovative digital board game business simulation called The Drivers of Business Performance™.
The Drivers of Business Performance simulation is designed to help learners understand the system of business and how operational decisions impact the financial performance of a company. Through a series of easy-to-understand, focused, and integrated quantitative and scenario-based business decisions, learners experience the systems of business and how operational decisions impact the inflows and outflows of money. Unlike dated, static Business Acumen board games, this dynamic, computer-based simulation:

Immediately shows the cause and effect of business decisions
Visually illustrates in real-time the simulated company's financial flows
Highlights data and insights of the core drivers of profitability and cash flow
Incorporates gamification tools such as achievement badges and leader boards
Features direct interactions with simulated characters to make learning fun, immersive and more realistic
Embeds online learning modules to introduce key business ideas, terms and concepts in the moment of learning
Leverages artificial intelligence tools to allow auto competitors to adjust strategies and tactics
In the simulation learners make a number of interrelated revenue generation and cost management decisions, having to juggle the trade-offs regarding revenue opportunities and their associated costs. Learners execute a business strategy by setting budgets, prices, and interacting with simulated characters through a series of animated scenarios that cover day-to-day operating challenges and opportunities for a fictitious global company.
"Changing the mindset and building the skills needed to make decisions that impact the business is why I am very excited to launch the new Drivers of Business Performance simulation," says Robert Brodo, co-founder of Advantexe. "This virtual business simulation was created to help introduce learners to the essential systems of business. We designed the simulation to take the complexity and mystery out of business acumen, help employees at all levels build their business confidence, and better understand the language of business."
The Drivers of Business Performance can be delivered virtually, as part of a live business acumen learning journey, or as part of a blended solution. The simulation can be launched as is, or Advantexe can fully tailor the program's business ecosystem and scenarios to a client's needs. The target audience for the simulation includes any employee needing a clear understanding of how business works and how this knowledge will enable him or her to be more productive and engaged on the job.
Learn More
For more information on The Drivers of Business Performance solution, please contact jim.brodo(at)advantexe(dot)com, click here to download a brochure, or click here to watch our introductory video.
About Advantexe
Advantexe Learning Solutions partners with clients around the world to build the business acumen, leadership, and selling skills needed to execute their business strategies and achieve meaningful business results. Our comprehensive toolkit includes skills assessments, dynamic learning engagements powered by computer-based business simulations, and reinforcement tools that encourage immediate skill application. These elements combine to produce a measurable and lasting impact on our clients' businesses.
Media Contact:
Jim Brodo, CMO – Advantexe
Jim.brodo(at)advantexe(dot)com