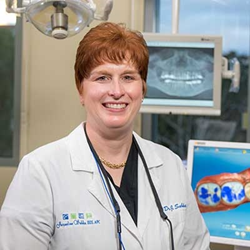 We don't have to make any incisions, we don't have to do any suturing. The results are phenomenal.
Thousand Oaks, CA (PRWEB) April 12, 2017
Dr. Jacqueline Subka is proud to announce that she now offers her patients various minimally invasive treatments incorporating the latest BIOLASE® WaterLase® dental laser. This cutting-edge laser technology can minimize treatment time as well as healing time for people who need to see a dentist in Thousand Oaks, CA, for numerous procedures, including gum disease treatment. Laser dentistry procedures also provide Dr. Subka's patients improved comfort and a reduced risk of complications.
In contrast to traditional dental tools, the BIOLASE WaterLase laser allows Dr. Subka to perform hard and soft tissue procedures without heat, friction, pressure or incisions, reducing the need for sedation. The laser uses a stream of water, along with laser energy, to quickly and precisely cut through tissue while causing minimal pain. This efficient approach frequently allows Dr. Subka to reduce the number of times that patients must visit a dentist in Thousand Oaks, CA, for treatment. With laser dentistry, patients can also expect faster healing periods. This laser treatment minimizes damage to healthy tissue and sterilizes the surgical site, thereby reducing the risk of infections and other post-procedural complications.
"Laser gum surgery is the most amazing new procedure that we have," said Dr. Subka. Utilizing this laser technology, Dr. Subka can improve patient comfort and final outcomes during a variety of procedures, including periodontal disease treatment. During gum surgery, Dr. Subka uses the dental laser to exclusively target bacteria and diseased tissue, leaving healthy gum tissue intact to protect the teeth. This laser dentistry procedure promotes reattachment between the teeth and supporting tissue, which reduces the risk of tooth loss and related complications, such as pain and dietary restrictions. By removing the bacteria that cause gum disease, laser periodontal disease treatment may also protect patients from other health risks linked to this condition, including stroke, heart disease, diabetes and certain cancers.
Seeing the convenient and long-lasting benefits of laser gum surgery provides her patients, Dr. Subka says, "The amount of post-operative discomfort that patients have is greatly reduced. We don't have to make any incisions, we don't have to do any suturing. The results are phenomenal."
People who need to visit a dentist in Thousand Oaks, CA, for gum disease treatment or other procedures are encouraged to call Dr. Subka's office at 805-373-1919 to schedule personalized consultations. Patients may also visit Dr. Subka's website at http://www.subkadds.com to request appointments or learn more about the services that she offers.
About the Doctor
Dr. Jacqueline Subka is general dentist offering personalized dental care for patients in Thousand Oaks, CA since 1999. Dr. Subka received her dental degree from the prestigious University of Southern California School of Dentistry in Los Angeles. Dr. Subka practices gentle dentistry and incorporates state-of-the-art techniques to provide leading, minimally invasive care. She and her team are committed to continuing education and strive to provide high-quality, personalized dental care to each patient. To learn more about Dr. Subka and the dental services she provides, visit her website at http://www.subkadds.com or call 805-373-1919.