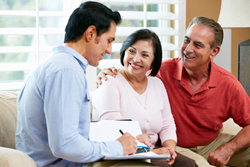 We built Flexxbuy with the goal of helping small and medium size businesses get more consumers through the door and sold by providing as many payment options as possible beyond the standard options currently available
Port St. Lucie, Florida (PRWEB) April 13, 2017
Flexxbuy ( http://www.Flexxbuy.com), a nationwide leader in providing businesses with customer financing solutions has earned its reputation for establishing cutting edge lender relationships. The company's most recent lender additions now can provide merchants with financing across the most broad credit spectrum in the industry.
"We built Flexxbuy with the goal of helping small and medium size businesses get more consumers through the door and sold by providing as many payment options as possible beyond the standard options currently available," explained President Bob Lovinger. "Consumers simply do not have the same buying capacity as they did prior to the recession and many don't want to drain or utilize what they do have"
Flexxbuy has gone against the industry grain by offering consumer financing solutions to businesses that were traditionally left out of the mix. While Flexxbuy offers powerful options to businesses in all categories, it prides itself on the solutions it is able to offer hard-to-place merchants such as service businesses, new businesses, home-based businesses, as well as on-line and ecommerce businesses.
Unlike other entities that provide consumer financing, Flexxbuy does not offer one-size-fits-all solutions or require clients to take on expensive equipment. Flexxbuy has aligned itself with dozens of lenders across the credit spectrum that offer lending solutions to prime credit, sub-prime credit and non-credit credit individuals. Through these lender alliances, Flexxbuy is able to provide clients with multiple lender options. In some cases, the platform can include as many as ten lenders.
Ease of use is key to the success of a customer financing solution. Each of Flexxbuy's lenders can be accessed through a simple to use on-line application and loan process. Clients can track the progress of the loan from initial application to funding. Flexxbuy provide merchants with just the right tools to offer a positive experience for both the client's staff and the consumer.
Lovinger added: "It's so important that we make our product as seamless with their sales process as possible. If it doesn't, or if it's too much effort, we run the risk of the merchant ignoring financing entirely, even if it means a lost sale."
Looking ahead, Lovinger has ambitious plans for Flexxbuy, including the development of additional all-in-one on-line lending platforms that will help more merchants connect their customers with consumer financing options.
About Flexxbuy, LLC
Based in Port St Lucie, Florida, Flexxbuy is a privately-owned broker of consumer financing solutions for businesses selling products and services to consumers. The company specializes in developing multi-lender platforms that give the consumer the best opportunity for approval and the merchant the best opportunity to make a sale.