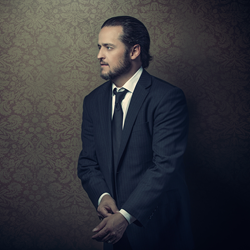 We believe in producing music that enlightens the mind and edifies the soul.
Salt Lake City, Utah (PRWEB) April 12, 2017
According to Next Big Sound, Stone Angel Music's catalogue of music has been played nearly 2 billion times on Pandora, Spotify, and other streaming services. In all, more than 25 million people are subscribed to the Utah-based label's artists channels.
"We believe in producing music that enlightens the mind and edifies the soul," said Paul Cardall, founder of Stone Angel Music, who is also a Steinway & Sons sponsored pianist with 21 full-length solo albums to his credit, and numerous additional albums as producer.  All told, Cardall's albums have spent more than 130 total weeks on the Billboard charts, an unmatched achievement in the industry for an independent artist.
Stone Angel Music's latest release, Classical Hymns, debuts from composer and arranger Shane Mickelsen, known for his work on albums with Cardall and with The Piano Guys.  Mickelsen's album combines rich, classical textures with soft, sacred hymn melodies to create soothing instrumental music that calms the heart and mind.  Classical Hymns debuted March 31, 2017 at #13 on the Billboard Classical Chart, #11 Classical Crossover, and #3 Heatseekers - Mountain Chart, among stars like Andrea Bocelli , John Williams, and Jackie Evancho.
 
Another of Stone Angel's most recent achievements is the signing of its eighth artist, Camille Nelson, to the label.  Nelson, an accomplished Nashville songwriter and guitarist, will be releasing an instrumental album of acoustic guitar and string music, Lead Me Home, in summer 2017. 
 
Of working with Cardall, Nelson notes: "I'm thrilled to be part of the Stone Angel family! I've grown to deeply value the way in which music expresses what words simply cannot. Music has helped me access and express peace in a way I can't otherwise articulate."
Stone Angel Music's recent accomplishments add to a long list of accolades for the label. One of its former artists, Steven Sharp Nelson, is now a member of global touring group The Piano Guys. Another Stone Angel artist, Jason Lyle Black, debuted at #2 on the Billboard New Age charts with his album, Piano Preludes, and has performed live on the Ellen Degeneres Show. Other artists include; Ryan Tilby, Ryan Stewart, and Jake White
 
Stone Angel Music is distributed worldwide by CDBABY, Deseret Book Distribution, and Alliance Entertainment.