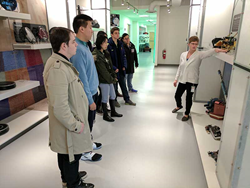 I also saw how much feedback from the public dictates the way businesses are run and which products are made
Lexington, MA (PRWEB) April 13, 2017
From examining the evolution of autonomous cleaning robots to loading agarose gels for DNA genotyping, students from Lexington Christian Academy have had their eyes opened to the diverse career paths in Science, Technology, Engineering, and Math.
As part of the Academic Advising program last semester, ten students traveled to iRobot headquarters in Bedford, MA. Many of these students are avid members of the Robotics Club, and all had expressed a desire to learn more about careers in engineering, including computer programming to aerospace engineering. Guided by Lisa Freed, iRobot's veteran STEM Program Manager, students were given an up close look at iRobot's forays into bomb defusal robots through military contracts, its prototype robotic children's toys, various airborne and underwater robots, and its current focus on home cleaning robots like Roomba, Scooba, and Braava.
When asked about the trip, senior Dean Rusk remarked, "I thoroughly enjoyed it and I learned a lot about both robotics and business. I learned for the first time about systems engineers, who exist to help engineers in different fields combine their work. I also saw how much feedback from the public dictates the way businesses are run and which products are made."
Freshman Trina Schell echoed that sentiment, sharing, "The trip to iRobot was extremely interesting. Right now, the company is known for their Roombas, but they've also made robots that swim and fly. Coming to iRobot also deepened my understanding of how innovation works. The engineers at iRobot started off by making a robot with sticks and tape!"
During spring semester, ten students traveled to the Novartis Institutes for BioMedical Research in Cambridge, MA. This group of students had an affinity towards learning more about the fields of biology, biomedical research, medicine, pharmacology, and biotechnology, as well the complex business decisions that power a more than 6,000 person research division in a large global company. Dr. Russette Lyons, the Director of the Novartis Community Exploration and Learning Lab, guided the students through an exciting laboratory experiment that precisely mimicked the techniques and methodologies used by real-world researchers. Precise pipetting of DNA samples into wells for gel electrophoresis built up eager anticipation as the students awaited the results that would determine their path forward for a hypothetical clinical trial based on their new research data.
LCA junior Grace Durant commented, "I had shadowed a couple of other research labs and I know I want to go into the field of science. However, I was really surprised to discover how long and the amount of money it took to develop a medicine and release it to the public. This trip really made me see what going into a field of science would look like-- it takes a lot of very hard work and patience but the research and results seem to make the process worth-while."
After the hands-on laboratory experiment wrapped up, the students concluded the day with a panel featuring a diverse array of Novartis staff, including a drug discovery education professional, a computational researcher, and a pre-clinical safety research associate. In reflecting on the panel, senior Hannah Lauffner shared, "Before going to Novartis, I had no idea there were so many other opportunities in the world of science. Researching is honestly fun and if I hadn't gone to Novartis I would've never explored that option."
Lexington Christian Academy is an independent college preparatory school that exists to educate young men and women in the arts and sciences in the context of a complete commitment to the gospel of Jesus Christ.