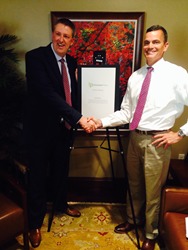 Brian Adams and Florida Hospital recognize that to build a winning team you must start by looking beyond your institutional boundaries to build a great community.
Tampa, FL (PRWEB) April 11, 2017
Florida Hospital Tampa's President & CEO, Brian Adams, is officially named as the Chairman of the Innovation Place (!p). He replaces Jim Dean, the former CEO of Busch Gardens, who now serves as park president of SeaWorld, Aquatica and Discovery Cove in Orlando.
"Brian Adams and Florida Hospital recognize that to build a winning team you must start by looking beyond your institutional boundaries to build a great community. Brian is one of the top CEO's in the nation and the Innovation Place is blessed to have him at the helm as Chairman," said Mark Sharpe, Tampa Innovation Place Executive Director.
The Innovation Place is a multi-jurisdictional district located in North Tampa anchored by globally-recognized institutions and partners. Innovation Place leadership includes executives from the five anchor institutions: Busch Gardens CEO Stewart Clark; Moffitt Cancer Center COO Jack Kolosky; University of South Florida President Judy Genshaft; and Roger Hirschhorn, SVP at RD Management which purchased the University Mall on Fowler Avenue in late 2014; and Florida Hospital Tampa CEO, Brian Adams. These institutions drive economic activity, engaging tens of thousands of students, educators, health care workers, patients and 4 million tourists annually. The mission is to create a nationally and internationally recognized live, work, play, study, and stay district that maximizes the considerable strengths of the institutions, businesses and community assets that exist in the area.
"I am honored to serve as Chair of the Innovation Place and help support our goal to unleash the potential in this area. This is an exciting time for the community we serve. Florida Hospital Tampa is part of a system of hospitals across the country that has a reputation for excellence and innovation. It is my pleasure to serve and help support the vision of the Tampa Innovation Place. Florida Hospital understands that it's critical to invest in the health and wellness of the community beyond the walls of the hospital," said Brian Adams, President & CEO Florida Hospital Tampa.
In January of 2014, Adams accepted the position of President and CEO of Florida Hospital Tampa, a 527-bed tertiary hospital that specializes in cardiovascular medicine, neuroscience, women's services, pediatrics, general surgery including robotic-assisted procedures and more. He has demonstrated that business success and mission fulfillment can be accomplished together. In addition, Adams serves as chair of Florida Hospital at Connerton Long Term Acute Care, a 50-bed hospital that is designed to serve individuals who have medically complex illnesses requiring additional weeks of specialized hospital care.
Adams was named President/CEO and the first official employee of Florida Hospital Wesley Chapel in January of 2011. He led a team that constructed the 83-bed, $160 million hospital from the ground up on-budget and on-schedule opening in October of 2012. Prior to joining Florida Hospital Wesley Chapel, Adams served for years in various leadership roles at 383-bed Florida Hospital Altamonte including Assistant Vice President/COO.
Adams holds an MBA from the University of Central Florida and a BBA from Union College in Lincoln, Nebraska. He has served with Adventist Health System since 2000.
The Innovation Place, formally Tampa Innovation Alliance, has five anchor members and more than 230 business members. It's focused on three core mission branches. Each branch requires significant analysis and study to begin action steps. They include: transportation, jobs growth and business development. To learn more about the Tampa Innovation Place or how you can join visit: http://www.tampainnovation.com
About Innovation Place
The !p is a multi-jurisdictional innovation district and designated TechHire Community anchored by five globally-recognized institutions: University of South Florida, Busch Gardens, Moffitt Cancer Center, Florida Hospital, and RD Management at University Mall. These institutions and others in the district will drive more than $2 billion in economic activity over the next three years, engaging tens of thousands of students, educators, workers, patients and millions of tourists. Innovation Place, the former Tampa Innovation Alliance, is building an engaged community recognized for igniting discoveries in technology, health care, digital media, transportation and more. Located in north Tampa, the !p launches ideas and action from the intersection of Hillsborough County, Tampa and Temple Terrace, Florida.
About Florida Hospital Tampa
Florida Hospital Tampa is a not-for-profit 527-bed tertiary hospital specializing in cardiovascular medicine, neuroscience, orthopaedics, women's services, pediatrics, oncology, endocrinology, bariatrics, wound healing, sleep medicine and general surgery including minimally invasive and robotic-assisted procedures. Also located at Florida Hospital Tampa is the renowned Florida Hospital Pepin Heart Institute, a recognized leader in cardiovascular disease prevention, diagnosis, treatment and leading-edge research. The recent addition of the Doc1st ER shows that Florida Hospital Tampa is committed to providing compassionate and quality healthcare. Part of the Adventist Health System, Florida Hospital is a leading health network comprised of 26 hospitals throughout the state. For more information, visit http://www.FHTampa.org