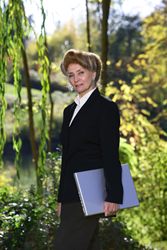 Grants Pass, OR (PRWEB) April 12, 2017
Beginning in December 2016, northern China (including Tianjin, Beijing and 70 other cities in northern China) was covered for weeks in dense, toxic smog, which was composed of high concentrations of PM2.5. Though it is the world 'leader' in pollution, China admitted that this air pollution episode was one of the worst in its history. The smog affected 460 million people!
How many of these people were afflicted with dry eye disease? Water advocate Sharon Kleyne, founder of Bio-Logic Aqua® Research Water Life Science® and host of the nationally syndicated radio program, The Sharon Kleyne Hour Power of Water, Global Climate Change and Your Health on VoiceAmerica, speculated on air that more than 175 million Chinese were affected by dry eye disease, which Kleyne explained is a disorder of the tear film as a result of deficient production or excessive evaporation. This condition can lead to damage to the ocular system and even blindness. Well known symptoms include pain, discomfort, headaches, redness, swelling and poor vision. Depression and anxiety are also common in people suffering from dry eye disease.
"The prevalence of dry eye in China is 17% of the total population of approximately 1.5 billion people," Kleyne said. "This means that approximately 38,3000,000 Chinese are going to suffer from dry eye disease in 2017."
Sharon Kleyne also agrees with a recent study that researchers must learn more about natural tears to better understand how to treat eyes that do not tear (eyes that suffer from dry eye). Such is the conclusion of a recent study conducted at the University of Western Sydney. Associate Professor M. Millar, director of the study, believes that researchers need to approach dry eyes "in a new, more constructive manner". Kleyne, who has conducted groundbreaking research on dehydration of the body's water vapor due to excessive evaporation for more than two decades, sees the need for more research because dry eye disease is on the rise around the world. "Everyone suffers dry eyes on occasion," says Kleyne, "but billions of people are chronically afflicted with dry eye symptoms that can result in blindness."
"Natural tears in China," Kleyne said, "are the right ticket to getting rid of dry eye," said Kleyne. "Natural tears lubricate our eyes. They protect the cornea and the surrounding tissues."
Sharon Kleyne's research center, which developed the only product on the global market that solves the dry eye dilemma by supplementing the tear film, has just made Nature's Tears® EyeMist® available in China. Kleyne explained that Nature's Tears® EyeMist® is applied with a personal hand-held humidifying device emitting a pure, pH balanced, 100% Trade Secret tissue culture grade water in a patented micron-size mist. It supplements the eye's tear film, which is 99 percent water. "With Natures Tears® EyeMist®," Kleyne said, "tired and irritated eyes are supplemented with pure water, and that's what dry eyes need. Eye drops provide temporary chemical relief," Kleyne continued, "but they can become addictive and even make the dry eye condition worse." Why? Because eye drops only trap water on the eye's tear lens; they do not supplement the tear lens or the moisture (the tears) around it. Nature's Tears® EyeMist® does supplement both.