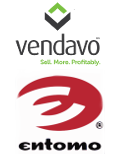 "Rebates are an integral part of any pricing strategy in the digital economy. They provide an efficient vehicle to align buyers and sellers on common objectives," said Sanjoy Chatterji, Founder and CEO of Entomo.
Bellevue, WA (PRWEB) April 12, 2017
To help organizations maximize revenues and profitability, Entomo, Inc., a leader in channel revenue management software and services, has partnered with Vendavo, a leading provider of intelligent pricing and margin optimization solutions, to manage the entire deal lifecycle from negotiations through accruals to payments.
The integrated solution helps organizations boost sales and grow profitability by managing and forecasting the total cost of multiple types of channel incentive programs such as volume rebates, growth rebates, ship and debit, price protection programs, MDF/Coop, and others.
Unlike upfront discounts, which can never be recovered, rebates provide incentives for meeting volume, product mix or other commitments. "Rebates are an integral part of any pricing strategy in the digital economy. They provide an efficient vehicle to align buyers and sellers on common objectives," said Sanjoy Chatterji, Founder and CEO of Entomo.
The Entomo SmartHub® delivers cleansed and enriched point of sale, inventory and potential rebate payout data for integration with deal guidance and benchmarking tools. The Vendavo Deal Manager™ equips sales reps with the ability to create new incentive programs or view existing programs and apply them directly to deals in their pipeline. The new partnership also supports the integration of rebate actuals with the Vendavo Profit Analyzer™ to provide in-memory analytics for uncovering additional profit opportunities to enrich margin analysis and price waterfalls.
"Most incentive management and financial analysis tools can look only at the general costs of an incentive program, said Bruno Slosse, President and CEO of Vendavo. "With the integration of our solutions into Entomo's incentive engine, sales teams can now forecast incentive program cost with a high degree of accuracy, while they are negotiating the deal. It's definitely a win for all involved."
"Sales is often unaware of the negative margin impact their back-end rebate programs may have on deals while finance struggles to track and accrue earnings and often get surprised by large claims at the end of a quarter," Chatterji continued. "The integration of Entomo and Vendavo provides better visibility and control over the programs and payouts which allows organizations of all industries to prevent margin erosion through unmet volume commitments and overpayments."
Supporting resources:

About Entomo
Entomo is a leading provider of cloud-based channel revenue management software and services. We help businesses effectively manage distribution channel complexity to capture unrealized revenue, reduce costs, improve partner performance and collaboration and ensure compliance at all levels. Entomo's SmartHub® is the industry's most flexible, scalable, and comprehensive enterprise channel management platform, enabling automation and simplification of all channel-related workflows, processes and financial activities. Entomo supports the channel revenue management activities for global enterprises including Brother International, Dolby Labs, Elo Touch Solutions, Keysight Technologies, Kingston Technology, Microsemi Corporation, Qorvo Inc., Sling Media/EchoStar, Toshiba America Electronic Components and United Technologies. Entomo is headquartered in Bellevue, Washington, with offices in the Silicon Valley, Asia, and Europe.
About Vendavo
Vendavo harnesses the power of Big Data to generate actionable insights that enable businesses to sell more profitably. Our margin and profit optimization solutions help global customers make better data-driven decisions for pricing and sales effectiveness. Using cutting-edge analytics and deep industry expertise, Vendavo boasts the largest number of implementations for B2B enterprises in the industry, having helped more than 300 company divisions dramatically increase revenue, improve profit margins and maximize shareholder value. Located across the globe, Vendavo is the solution of choice for Global 2000 companies in industries such as chemicals, industrial manufacturing, high-tech, and distribution.