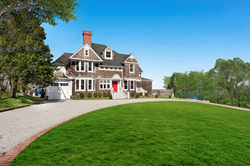 Dr. Richard Salter Storrs, the first owner of 22 Prospect Avenue, most notably delivered a speech in 1865 for Abraham Lincoln, who maintained a pew in the minister's church..."
Shelter Island, NY (PRWEB) April 13, 2017
Penelope Moore, of Saunders & Associates, announced that "Sunset Hill" an historic waterfront estate on Shelter Island, NY, once owned by Dr. Richard Salter Storrs, a Minister with connection to U.S. Civil War Era History, has been listed for sale for $8,875,000.
"Sunset Hill, an 1883 Queen Anne style waterfront estate located at 22 Prospect Avenue, Shelter Island Hgts, NY, possesses an extraordinary provenance, and has been lovingly restored, retaining its original character," Moore said. "This area of Shelter Island Heights was named 'Divinity Hill' after this and its adjacent home were built by Dr. Richard Salter Storrs, once minister of the Church of the Pilgrims in Brooklyn, NY."
Storrs most notably delivered a speech in 1865 for Abraham Lincoln, who also maintained a pew in the minister's church, and prayers for the opening ceremony of the New York Brooklyn Bridge in 1883.
In the 1960's former New York State Governor Hugh L. Carey and his family used Sunset Hill as their summer residence.
"Located on 1.87 elevated acres with 200 +/- feet of sandy beach on Shelter Island Sound, "Sunset Hill was aptly named, offering vibrant sunsets from four levels of finished space totaling 7,165 square feet with a bird's eye view all the way to Connecticut. Its spacious layout comprising 7 bedrooms, 8 baths, 3 fireplaces and pool translate well to today's audience," Moore said.
Meticulously restored in 2009 by its current owners, the variegated cedar shingles were replaced and the original pattern replicated. The home was lifted and a new foundation poured. The original floors, staircase, mantelpieces, trims and moldings were painstakingly cleaned and put back into place, with modern amenities, including new kitchen, baths, central air and heat, and pool installed.
Shelter Island Heights is described by historian Patricia Shillingburg as "a distinguished intact example of a late 19th century and early 20th century resort with outstanding specimens of exuberant folk architecture" and "a significant resource in the history of American planning."
Nanette Lawrensen, Executive Director of the Shelter Island Historical Society said, "Sunset Hill stands as an enduring reminder of how Shelter Island Heights was originally established by 24 Brooklyn ministers and their congregations who incorporated the Shelter Island Grove and Camp Meeting Association of the Methodist Episcopal Church in 1871."
Shillingburg's website, Shelter-Island.org, continues: "Designed about 1872 and essentially unchanged since then, the Heights is a beautiful example of the picturesque, naturalistic landscape and romantic rural residential areas created by the first generation of American landscape architects. Among these were Frederick Law Olmsted, the designer of New York City's Central Park, and Robert Morris Copeland, who laid out the original plan for the Heights, prepared for a Methodist-affiliated organization from Brooklyn. The Heights is among the few preserved communities that combined facilities for religious camp meetings with summer resort living close to New York and Connecticut.
"The 300 or so acres rise gradually from the shore to reach the impressive (for Long Island) height of 150 feet above sea level. The Heights is bounded by water on three sides, making a view of the sound and bays available from many vantage points. All the original roads are laid out in a series of sweeping curves that descend in a broad scallop pattern to the water's edge.
"From the beginning the Heights was conceived as a community with parks, open spaces, a hotel, and lots for private residences. Between 1872 and 1880 about 70 cottages were constructed; by the late 1880s another 30 were added; by 1890 the current layout was defined.
"The second wave of development (after 1880) saw larger houses in a variety of styles: Stick, Queen Anne, and Colonial Revival. They feature elaborate embellishments on porches and a sense of fantasy that is derived from a combination of clapboard siding, bands of scalloped shingles, and elaborate cut-work balustrades and carved friezes.
"Today the Heights Historic District consists of 141 buildings, designed in several distinct styles. The original cottages built in the first decade are in the exuberant folk architecture found in camp meeting sites such as Oak Bluffs on Martha's Vineyard and Ocean Grove in New Jersey. The most striking feature of these steeply pitched gable roof structures is the elaborate and delicate wood trimming on verandas, gables, windows, and doors.
"Shelter Island Heights was listed on both the United States Register and the New York State Register of Historic Places in 1993 "in recognition of its significance in American history and culture."
Both a town and island located on the eastern end of Long Island, NY, Shelter Island is an idyllic locale with residents who can trace their roots back to the American Revolution and historic properties, some from the pre-war era. Shelter Island can be reached by ferry from the North and is accessible via North Haven to the South, and is well known for being a popular retreat.
About Us:
Penelope Moore is a Licensed Associate Real Estate Broker who heads up the Shelter Island office of real estate brokerage Saunders & Associates, which has offices in Bridgehampton and Southampton, NY. Moore has been the leading real estate broker in this Hamptons' enclave since 1997.
22 Prospect Avenue, Shelter Island Heights link to listing:
http://www.hreo.com/html/inn_search.jsp?innum=39190
Saunders & Asssociates Website: http://www.ShelterIslandRealEstate.com
Penelope Moore Profile:
http://www.hamptonsrealestate.com/eng/associate/524-a-526-512496/penelope-moore
Shelter Island Historical Society: http://www.shelterislandhistorical.org/
Shelter Island Historic Information: http://www.shelter-island.org/
Contact: Gary Nolan – SVP of Business and Technology Development (631) 458-4912 \ (631) 702-0914 Gnolan@Saunders.com
# # #