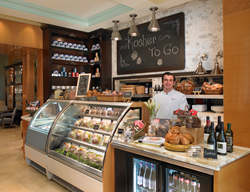 Miami, FL (PRWEB) April 12, 2017
Acqualina Resort & Spa has announced the opening of Kosher-To-Go, a charming modern marketplace located on the hotel's lobby level. Kosher-To-Go is a welcome addition to the resort's award-winning food & beverage offerings including the beachfront Costa Grill, the signature Il Mulino New York, AQ by Acqualina and sushi and raw bar by Hiro's Yakko-San.
Kosher-To-Go will offer gourmet grab-and-go meals prepared by Aroma Kosher Market & Catering, a glatt kosher market approved by the Orthodox Rabbinical Board providing high quality kosher food in South Florida for more than a decade. The to-go program is perfect for guests and travelers to enjoy a pre-packaged meal on the run, while relaxing at the resort's oceanfront pools and beach or in the comfort of their guestroom or suite.
The kosher menu features a selection of lunch options from summer salads to sandwiches and light snacks and sweets. Guests can grab meals including roast beef, tuna or turkey sandwiches, Tuna Nicoise, Greek salad, Quinoa Health salad and delicious snacks, chips, chocolate and kosher gelato. Through Wynwood's Zak the Baker, chocolate babka and banana bread will be available daily. In addition, there will be a variety of beverages offered including kosher wine.
Kosher-To-Go is open every day from 11am to 10pm. For more information, call 855.420.9365 or visit acqualinaresort.com. Acqualina Resort & Spa is located at 17875 Collins Avenue in Sunny Isles Beach.
About Acqualina Resort & Spa
Acqualina Resort & Spa is a place where the charm of a Mediterranean villa meets elegance on the beach. A seaside luxury haven located on 4.5 beachfront acres in pristine Sunny Isles Beach, Acqualina Resort & Spa features 98 impeccably appointed guest rooms and suites and 188 residences with breathtaking views of the Atlantic Ocean, world-class dining including Il Mulino New York, three oceanfront swimming pools, spacious meeting rooms and an innovative marine biology-based children's program. A variety of lavish interior and exterior venues provide an ideal background for opulent weddings and memorable events. Acqualina Spa by ESPA, the first ESPA-branded spa in the United States, provides guests with an exquisite 20,000-square-foot, two-story tranquil sanctuary of excellence and relaxation. A family owned and operated property, Acqualina is a recipient of the coveted Forbes Travel Guide Awards for both the hotel and spa and the AAA Five Diamond Award.
Follow us on Social Media: Facebook, Twitter and Instagram.