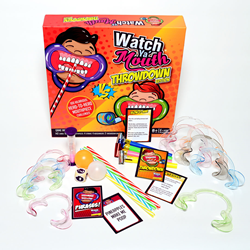 Our mission is, quite literally, to put the biggest smiles possible on faces across the globe, from college campuses to family game nights!
Staunton, Va (PRWEB) April 12, 2017
This Friday, Watch Ya' Mouth, maker of The Authentic Mouthguard Party Game, in partership with Buffalo Games, will unveil Throwdown – The Outrageous Evolution of Mouthguard Gameplay.
In Watch Ya' Mouth Throwdown, 4–10 players face off in head-to-head challenges, all while wearing cheek retractors so they can't close their mouths or communicate intelligibly. Challenges range from familiar bar games and relay race activities—with surprising social media twists—to acting, singing, and drawing tasks (but you have to hold the pen with your teeth). Throwdown fuses hilarious physical competition with the signature activity of the original Watch Ya' Mouth Game, reading and interpreting crowdsourced funny phrases while hampered by CE- and FDA-certified mouthguards.
Husband-and-wife team Peter and Alison Denbigh sparked a cultural phenomenon with the release of their first product, Watch Ya' Mouth – The Authentic Mouthguard Party Game. It was a favorite gift bag item at The Oscars and one of the nation's top-selling games in 2016. The company was featured on Good Morning America, inspired its own YouTube trend, and has established itself as the brand authority on mouthguard games. Despite the accolades and success, Watch Ya' Mouth is still a small family business competing in the hobby games market against deep-pocketed corporations. But that hasn't stopped them one bit.
"We followed the American Dream, going from truly working out of our garage to bringing laughter to people all around the world," said Alison Denbigh. "This next iteration of the game provides even more opportunity for bonding and maybe some humiliation and ridiculousness.
"Our mission is, quite literally, to put the biggest smiles possible on faces across the globe, from college campuses to family game nights. We're obsessed with laughter, having fun with friends, and bringing people together. Here we go again!"
Purchase Watch Ya' Mouth Throwdown here. -- https://wymgame.com/product/watch-ya-mouth-throwdown/
Watch Ya' Mouth is an independent mouthguard party game producer. Since our founding less than a year ago, we've launched five family-friendly and adult-themed phrase card expansion packs, three bundles, and two companion products. Visit us online: http://www.wymgame.com