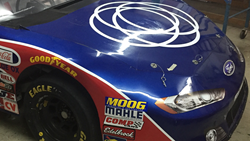 (PRWEB) April 12, 2017
Racing to Remember (RTR), a professional NASCAR racing team that participates in the K&N Pro Series East, announces a partnership with fellow New Jersey-based business Momentum Solar for the 2017 season. The partnership is in correlation with the solar firm's "Give Back" program and a donation initiative they are launching to benefit the USO of Metropolitan New York (United Services Organization of Metropolitan New York) at the New York Auto Show through veteran and RTR's Rich Bodmer, who joined Momentum's team this year. Bodmer will be racing with car number 22, which brings awareness to the 22 veterans a day that are committing suicide.
"My close relationship with the service comes initially from my upbringing — my father has been in the Air Force for 21 years," says Momentum Solar CEO Arthur Souritzidis. "We honor these individuals every day, and working with Rich Bodmer and his NASCAR race team is a way to show our appreciation. We understand the importance of the USOMNY's mission to keep service members connected to family, home and country throughout their service to the nation. We look forward to the opportunity to continue working with the USOMNY going forward."
Momentum Solar (http://momentumsolar.com), one of the fastest-growing private companies in the nation and a top national solar contractor, focuses on helping preserve the environment and growing the renewable energy industry by installing solar panels on homes and businesses. To assist in this initiative, $500 will be donated to the USOMNY for every completed solar installation that is a result of the New York Auto Show. In addition, Momentum is also committed to tripling the number of veterans in their employ this year.
"I'm now working with Momentum to not only help educate homeowners and business owners on the benefits of solar energy, but to bring awareness to veterans that are struggling," said Bodmer. "We look forward to networking at the New York Auto Show, help raise as many donations as we can, and recruit veterans who are looking to reenter the workforce."
Momentum's donations can help pave the way for more opportunities to work with organizations dedicated to improving both the lives of those that are active duty, and those that have already left the service. The more successful the partnership, the more leeway there is for the USOMNY to continue doing great work for Americans that deserve utmost respect. Keeping them connected is important, and Momentum looks forward to supporting it.
The New York Auto Show is from April 14th through the 23rd. Stop by to visit Momentum Solar, see the race car, and help support the USOMNY and America's veterans.
About Momentum Solar
Momentum Solar, founded in 2009, is a top solar contractor and Inc. 5000 fastest growing private company that employs over 400 people nationwide. The company is committed to making solar panels affordable, providing savings for their clients, and helping the environment. Their team of in-house professionals has an extensive wealth of knowledge in designing customized solar power systems for both residential and commercial properties. Momentum Solar manages the entire customer life cycle from the sale to design, engineering, permitting, installation and activation of the system to make the process simple for homeowners and business owners.