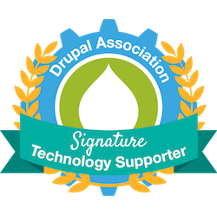 CCBill is proud to join the Drupal Association and to provide thought leadership and education around online payment services to the Drupal community.
Tempe, AZ, USA (PRWEB) April 20, 2017
This new partnership further supports the Drupal Association's mission to power the best digital experiences, by bringing CCBill's years of industry leading knowledge and expertise in online payments to Drupal's global open source community of design, development, hosting, spam blocking theming and training professionals.
As a Technology Supporter, CCBill will have an opportunity to contribute to the development and growth of the digital content and commerce industry by interfacing with Drupal members and businesses using Drupal. By introducing their diverse ecosystem of CCBill merchants, affiliates and integration partners to the Drupal community, CCBill hopes to help expand perspectives, insights and intelligence on the latest and best ways to build dynamic web experiences using Drupal 8. The integration with Drupal for payments-as-a-service and the connection to the CCBill platform for automated payment solutions, international processing, and included marketing tools opens up new directions for e-commerce on a global level.
"The Drupal Association truly appreciates the support of CCBill, who signed on as a Technology Supporting Partner. Funds from the program support the Drupal Association Tech team, who make significant improvements to our community home, so together we can collaborate more easily and accelerate Drupal's innovation," said Carrie Lacina, Director of Revenue, Drupal Association.
Founded in 2000, Drupal is a content management software used to make many of the websites and applications used around the world. The Drupal community is one of the largest open source communities in the world, with more than 1,000,000 passionate developers, designers, trainers, strategists, coordinators, editors and sponsors all working together to position and utilize Drupal software as a leading platform in the development of web, mobile, digital marketing and social activities. Used by many of the leading global web, content and media companies, Drupal framework powers the BBC, NBC and MTV UK online properties.
Ready to engage and contribute to the Drupal community, CCBill will be attending and participating in the annual DrupalCon event, April 24 – 28, 2017, in Baltimore, Maryland. As the biggest Drupal event in the world, DrupalCon brings the global Drupal users and partners together for five days of training, summits, sprints, business sessions, social events, and Expo.
"CCBill is proud to join the Drupal Association and to provide thought leadership and education around online payment services to the dedicated community of Drupal users," said Chris Pike, Channel Manager, CCBill. "As a Drupal Technology Supporter, we remain committed to helping to further advance and grow the use of Drupal in the dynamic world on digital content and e-commerce."
About CCBill
Much more than a payment processor, CCBill is a payment services platform, which provides expert support and empowerment to your expanding relationships. Whether it is through consistent on-time payouts, distinctive affiliate tools, or the comprehensive and proprietary set of account management options, CCBill understands online business like few others and has offered industry-leading solutions since 1998. Processing for more than 30,000 websites worldwide, CCBill has the reliable problem-solving techniques, phenomenal consumer support, and innovative solutions to support all the markets it serves. An industry pioneer, CCBill was honored with the 2016 and 2017 iDate Awards for Best Payment System.