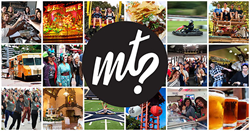 Los Angeles, CA (PRWEB) April 13, 2017
Mystery Trip today announced the launch of miniMystery Trips, a new take on their award-winning events. These self-guided, 3-4 hour walking tours are designed to cater groups of up to 10 people who would otherwise be shut out of having a mysterious experience.
"Over the last year I've gotten a disproportionate number of inquiries for smaller groups," said Dave Green, Chief Mysterious Officer of Mystery Trip. "I had been trying to crack the code on this for some time, and finally came up with a solution that I'm happy with."
***Discovering the nooks and crannies of Los Angeles and supporting small businesses***
miniMystery Trips are self-led, walking adventures in one of four neighborhoods (DTLA, Hollywood, Santa Monica and Studio City to start, changing every three months). "This city is so unique and fun, yet so undiscovered because many people are intimidated or uninformed about different neighborhoods," Green said. "My two main goals with Mystery Trip has always been to share the fun nooks and crannies of LA, and highlight the small businesses and people that make this city so great. I hope by having a night pre-planned for them, people will feel more comfortable stepping ever-so-slightly out of their comfort zone, to discover something or someone extraordinary!"
***Keeps you guessing until the end***
To keep the mystery throughout, the buyer begins with only one piece of information: a designated starting location (which is only revealed 24 hours before the event begins). From there, texts are received with additional instructions and information along the way. Each trip includes an activity, a reservation at a cool local restaurant and a hip bar recommendation all within walking distance of each other.
***Just show up and have fun***
"The value proposition that resonates the most with my clients," Green continued, "is when I tell them we're going to plan their whole event for them. With miniMystery Trip, I am translating that into helping people plan a unique, fun night out in Los Angeles, with none of the hassle or time to plan it. All they have to do is show up and have fun."
***Pricing and availability***
miniMystery Trips cost $45 per person, and is available now at http://www.mysterytrip.co/mmt. Custom made, guided miniMystery Trips are also available with a starting price of $250 per person.
***About Mystery Trip***
Mystery Trip was founded in 2010 by Dave Green, and won the inaugural grant from the LA Chapter of the Awesome Foundation. It has been featured in LA Weekly's "Best of" issue (2012), was recognized by BusinessInsider.com as one of the "Coolest Small Businesses in LA" and by Forbes.com as one of the "Five Ways Los Angeles Is Getting More Awesome." Mystery Trip has experience with corporate events (Google, Facebook, YouTube, AirBnB, NBCUniversal, Lyft, TOMS, Kaiser Permanente, Cisco, Movember, Discovery Channel, AOL, and Riot Games), private parties (birthdays, anniversaries, Bar/Bat Mitzvahs) and charities (Susan Koman). Mystery Trip is based in Los Angeles, and works nationwide, having done events in Los Angeles, New York City, San Francisco, Boston, Philadelphia, San Diego, Denver, Dallas, Oakland, Pittsburgh, Seattle and Sonoma County.