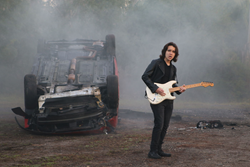 Hollywood, Calif. (PRWEB) April 12, 2017
Dalton Cyr recently teamed up with Teens Against Distracted Driving to launch a campaign about the dangers of texting and driving. Cyr created the concept, wrote and recorded the music, directed, and starred in the Breathe film trilogy, which tells a story about the fragility of life and love. The first of the Breathe three-part series, "Fall Into Place," with a worldwide release on April 12, 2017, sets up the emotional journey about life and love to raise awareness about the dangers of distracted driving. Cyr creates a powerful story that shows the full spectrum of the pendulum of life in a way that is relatable and delivers a lasting impact. The second and third parts, Echo and Let It Go will be released in May. Cyr's mission is to bring the Breathe Trilogy and its message to high schools nationwide.
Teens Against Distracted Driving, a non-profit organization dedicated to increasing awareness of the dangers of distracted driving, teamed with Cyr with the goal to have teens sign pledge cards promising not to text and drive. The release of the Breathe trilogy coincides with The National Safety Council observing Distracted Driving Awareness Month in April. An estimated 80 percent of all accidents in the U.S. involve some form of distracted driving. Co-written by Sharon Cobb, Cyr created with the concept in February 2016 when he discussed the idea with Jacksonville film producer, Duane A. Sikes, who immediately agreed to produce the project.
Cyr joins countless other teen celebrities, including Kendall Jenner, Justin Bieber and Lucy Hale who have taken up the cause of distracted driving. Cyr expresses his gratitude for the overwhelming support of this poignant project, "When I think about it, I'm truly humbled. I had fans making and sending stuff for the set design from around the country. Dozens of people and businesses pitched in to make this happen."
Cyr (16 years old) has experienced incredible recent success. His pre-released single "Invisible" from his new EP, also titled "Breathe", has already charted in the top ten on Indie charts in the U.S., Canada, the U.K. and South Africa.
Dalton Cyr is a singer, songwriter, musician and actor. Trey Vittetoe (Producer/Songwriter for Miley Cyrus and Selena Gomez) calls Dalton Cyr a "great presence…definitely a star." A prolific songwriter, described as Ed Sheeran meets Bruce Springsteen, Cyr is a triple threat. Two of his songs are in the feature film Time Toys, which he is a supporting lead actor in, and his single "The Way It Should Be" is the official music video for the movie. Cyr also has a recurring role in Pretty Little Liars and will appear in the series finale of the TV show. Cyr serves as the National Ambassador for the Dream Factory.
For more information, please visit Dalton Cyr's Official Site, and on Twitter, Facebook, Instagram and Youtube.