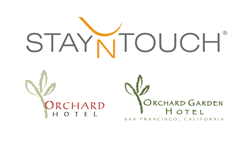 We knew we had to make a change. Over a six-month period, we reviewed about seven different contenders. The team and the products at StayNTouch just felt most comfortable to us.
(PRWEB) April 12, 2017
StayNTouch, an innovator in mobile technology and Property Management Systems (PMS) for hotels, announced the deployment of its Rover PMS™ and Zest™ solutions at San Francisco's 104-room Orchard Hotel and at 86-room sister-property Orchard Garden Hotel.
"Our old PMS was archaic, non-intuitive and cumbersome," said Juan Bueno, General Manager at Orchard International Group. "We knew we had to make a change. Over a six-month period, we reviewed about seven different contenders. The team and the products at StayNTouch just felt most comfortable to us. The Rover PMS product was very rich in features and we really appreciated the reports. Plus the references from hotels already using the product were very, very good.
StayNTouch offers hotels the opportunity to integrate multiple cloud-solutions on one platform:

Rover PMS™: Next generation Hotel PMS, fully cloud, fits on every device, optimizes hotel operations from front desk, to groups, to housekeeping to revenue management. Simple monthly pricing that includes training, integrations and configuration.
Zest™: Enables guest pre-engagement and guest services via mobile web. Guest-enabled mobile check-in & out via smart phone or desktop. Private labeled, PMS-integrated mobile check-in &/or checkout. Bill review, preference collection, upsell opportunities, and remote key fulfillment. Promote and monetize late checkouts.
"We are very happy to be working with the team at Orchard," said Jos Schaap, CEO-Founder of StayNTouch, "The sister hotels operate in the very busy San Francisco market. We're happy that we could provide a product to make operations easier and provide a key differentiator for them amongst their competition."
About StayNTouch Inc.
StayNTouch is a "Software as a Service" hotel property management systems (PMS) company focused on developing solutions that help hotels raise service levels, drive revenues, reduce costs, and ultimately change the way hotels can captivate their guests. Developed with mobility in mind, the pioneering platform enables hotels to create long lasting relationships with their guests by delivering personalized service levels that today's guests require. StayNTouch operates on tablets and smartphones, empowering hotel employees to go above and beyond in exceeding guest expectations at every touch point.
Powering over 75,000 rooms globally, our game-changing solution frees hotels from the constraints of legacy or premise systems, dramatically streamlines operations, increases margins, and revolutionizes how front-line staff connect with guests. StayNTouch is a trusted partner to many of the most forward thinking hotels, resorts, casinos and chains in the industry, including Yotel, Zoku Amsterdam, Valencia Hotels, The Freehand Hotels, Modus hotels and the Fontainebleau Miami Beach.
To learn more watch our video "The New Way...To Hotel!"
Twitter: @StayNTouchInc
Facebook: facebook.com/stayntouch
LinkedIn: LinkedIn/stayntouch
For more information, contact:
About Orchard International Group:
The Orchard International Group continues a legacy of Asian hospitality inspired by the famed "Orchard Road" in Singapore and represents the vision of Mr. S.C. Huang and his family to recreate this spirit of gracious hospitality in two, modern San Francisco hotel settings.
The Orchard Hotel is nestled in the heart of San Francisco and was recently named among the "Top 10 Best Eco-Friendly Hotels in the U.S." by USA Today. The downtown San Francisco hotel delights guests with sophisticated accommodations, high-tech amenities and personalized service. Visit: http://www.theorchardhotel.com
The tranquil Orchard Garden Hotel, also in San Francisco blends boutique luxury with state-of-the-art, eco-friendly design. California's first- LEED-NC certified hotel, it exudes a soothing spa-like serenity that sets guests immediately at ease, whether they're spearheading a board meeting or sipping cocktails on the rooftop terrace against a sparkling San Francisco city skyline. Visit: http://www.theorchardgardenhotel.com