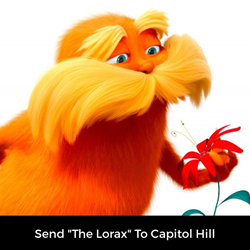 "Lawmakers and citizens must defend the environment from shortsighted and reckless executive orders, that if not stopped, could lead to the same terrible outcome that Dr.Seuss warned us about in his 1971 book
Philadelphia, Pa. (PRWEB) April 12, 2017
The Lorax Project is armed with boxes of the Dr.Seuss classic, The Lorax, to share the consequences of not standing up for the environment, with all members of Congress.
The books are set to be hand delivered at Capitol Hill on April 24, 2017. Individual copies of the Lorax are being funded by donations from environmentally conscious citizens on The Lorax Project GoFundMe campaign.
Included with each book will be messages from children and constituents alike, seeking to convey to Congress the importance of protecting our most beautiful and valuable resource.
"The Lorax teaches us that we all must be custodians and advocates for the most important thing we can pass on to our children - clean air, clean water, abundant forests and a respect for our environment," said Cathy Spahr, founder of The Lorax Project. "Lawmakers and citizens must defend the environment from shortsighted and reckless executive orders, that if not stopped, could lead to the same terrible outcome that Dr.Seuss warned us about in his 1971 book."
As The Lorax character Once-ler states, after he has clear-cut the forest and polluted the air and water with harmful greed driven actions: "Unless someone like you cares a whole awful lot, nothing's going to get better. It's not."

When: April 24, 2017
Where: Capitol Hill Steps, Washington D.C.
Who: People who are concerned about the current administration's anti-environment policies
What: Deliver The Lorax, by Dr. Seuss, to every member of the United States Congress.
Why: "Unless someone like you cares a whole awful lot, nothing's going to get better. It's not."
Additionally, The Lorax Project is seeking to collect letters written to representatives by emailing to theloraxproject(at)yahoo(dot)com from all over the country to deliver with the books.
Children are also writing messages to congress as a book plate on the inside of the book, personalizing the book as a reminder as to whose future we are borrowing from.
For more information and to support The Lorax Project visit: https://www.gofundme.com/send-the-lorax-book-to-congress