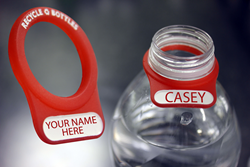 MyGerms Keep Tabs On Your Bottles
Houston, Texas (PRWEB) April 12, 2017
People who are frustrated and fed up with wasting money, putting their health at risk, and damaging the environment because they can't always remember which bottle of water, beer, juice, sports drink, or any other liquid is theirs -- and which belongs to someone else -- will soon have a groundbreaking product in their hands that solves all of these problems with remarkable ingenuity and ease: MyGerms.
Spearheaded by Victor Rey, the inventor and entrepreneur behind custom-designed silicone wristband leader WristbandConnection.com, MyGerms are colorful and personalized silicone tabs that easily stretch over any sized bottle. As a result, people never have to fear drinking from the wrong bottle – or worry about someone mistakenly drinking from theirs. They simply see whose name is on the MyGerms bottle tab and instantly solve any ownership confusion.
"In addition to helping individuals, families, groups, teams and businesses save thousands of dollars a year, MyGerms can also help prevent the spread of germ-causing illnesses and infections -- and as such could keep some people from ending up at the doctor's office or Emergency Room," commented Rey. "Plus, a reduction in wasted bottles means that fewer end up in landfills, which is good for the environment."
Currently, Rey and his MyGerms team have:

Developed fully-functional MyGerms prototypes.
Designed systems that can personalize more than 6,000 MyGerms tabs an hour.
Relationships with reputable and proven manufacturers, suppliers and distributors that have been on the WristbandConnection.com roster for over a decade.
The next step is a Kickstarter campaign that will focus on raising capital to cover the cost of MyGerms production molds. Additional details will be announced in the coming weeks.
Added Rey: "While MyGerms is about helping people save money, protect their health and preserve the environment, it's also a great business story. A big part of our commitment is creating quality American jobs here in Houston and, eventually, across the country. We have high expectations, and based on the incredibly positive feedback we're getting from people and businesses across the country, we're on track to exceed our goals sooner than we had hoped. The sky is the limit, and everyone who wants to be part of our helpful journey is welcome to join the MyGerms movement!"
For more information on MyGerms visit http://mygerms.com, or follow MyGerms on Facebook: https://www.facebook.com/mygerms.