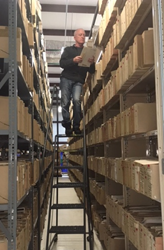 Photography collectors demand we find artistic works they have not seen before. So our job is to find these works, wherever that takes us.
Santa Monica, Calif. (PRWEB) April 12, 2017
Daniel Miller has developed an unusual skill. He scours large photograph archives of humdrum prints for those that are actual art, much like needles in paper haystacks. He decides which images possess "art" -- part intuition, part knowledge, part skill, but mostly hard work. Last year Miller searched through literally millions of photographs in 14 countries to find several hundred he deemed appropriate.
According to Miller, "I can look at around 100,000 photos in a very full day. But that's moving quickly and being organized."
In this quest, he has been on rickety ladders in hot Arkansas warehouses, bitter cold flea markets in Russia, French-speaking auction houses in Paris, random galleries in China, and many private collections around the world. While much of this could be done viewing digital images online, Miller prefers to roll up his sleeves and physically examine the prints he seeks. "It's really hard to tell the good from the really good online. My collectors want the really good vintage works. I like to feel, examine and smell the paper to authenticate the print."
He has been called a modern "Indiana Jones of photographs."
What does he do with all these photographs? He curates gallery exhibitions from some sets (Apollo 11 moon landing, vintage Parisian scenes, the life and times of Muhammad Ali, Soviet-era photographs, children misbehaving badly, etc). Museums have contacted him to borrow exhibitions he has assembled. Private collectors have snapped up some of these sets.
Miller uses the discoveries he finds to fuel the project YourDailyPhotograph.com. This daily subscription service for photography collectors celebrates 7,600 worldwide subscribers in its five year anniversary this May 1st. Starting with a core of just 25 subscribers, the service has steadily grown over the past five years.
Subscribers include famous collectors, celebrities, hedge fund managers, and average people who really like photographs. "Photography collectors demand we find artistic works they have not seen before. So our job is to find these works, wherever that takes us."