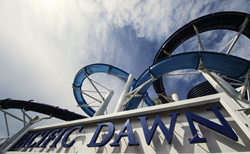 P&O Cruises Australia has enhanced the design of its popular Pacific Dawn Cruise with new Polin waterslides, further enhancing the façade designed by award-winning architect Renzo Piano.
(PRWEB) April 14, 2017
The cruising industry continues to grow, pushing competition among cruise lines to upgrade ships with the latest enticements. Waterslides have become a key attraction, and Polin Waterparks' recent partnership with P&O Group confirms its status as one of the key suppliers of this area of entertainment.
Polin Waterparks previously was involved with signature installations of waterslides and water play attractions on ships for three of the world's largest cruise lines: Carnival, Royal Caribbean Lines and MSC. Polin's latest endeavor involved pairing up with project-management expert Myrtha Pools (Castiglione delle Stiviere, Italy) to install two waterslides on P&O's Pacific Dawn ship. Myrtha is recognized for its special engineering and installation skill. (Millions saw the firm's work on display during the 2016 Rio Olympics' events in the two 50-meter pools Myrtha designed.)
A regal background
The Pacific Dawn was built in 1991 and originally christened as the Regal Princess. Over the years, the ship's owner changed hands several times. Today, the ship is operated by P&O Cruises Australia. It was extensively refurbished in 2007, when it was renamed Pacific Dawn. A few years later, it moved to its new home port of Hamilton, Brisbane, Australia. In 2010, it again went into dry dock for extensive refurbishment and then, once more, in 2014 for the addition of new offerings that included a zip line, a rock-climbing wall and cosmetic improvements to the pool deck and a restaurant.
Its most recent enhancements include not only the two waterslides that Polin supplied but an interactive kids' area, new dining options and a refreshed interior design.
A favorite becomes even more appealing
The 2,020-passenger Pacific Dawn already was recognized as one of Australia's favorite cruise ships. Now, with the addition of two Aquatube waterslides it will be more fun.
The Aquatube waterslides installed on the Pacific Dawn are both long, at about 80 meters (262 feet) each. They are the inaugural waterslides to the P&O fleet and will open to the public in June.
Polin's Aquatubes are a perennial favorite of waterparks around the world, from indoor aquatic facilities to the globe's largest entertainment providers. Guests thrill not only to the slide's speed but also the overall experience it offers with the addition of Polin's trademarked Magic Shine, Natural Light Effects, Special Pattern Effects and translucent options.
Waterslides enhance an acclaimed designer's work
Pacific Dawn's exterior was designed by Renzo Piano, an Italian architect and engineer known for buildings such as the Centre Georges Pompidou in Paris, the Shard in London and the Whitney Museum of American Art in New York City.
In 1998, seven years after designing the Pacific Dawn, Piano received the Pritzker Architecture Prize, an award presented annually "to honor a living architect or architects whose built work demonstrates a combination of those qualities of talent, vision and commitment that has produced consistent and significant contributions to humanity."
Piano was inspired by a dolphin in designing the ship's distinctive curved superstructure. As an added enhancement to the ship's façade, and unlike other ships in the P&O line, Pacific Dawn sports an all-white hull in honor of P&O's 75th anniversary in Australia.
Today, the ship's sleek lines include the streamlined arcs and bends of Polin's Aquatubes, providing dramatic swoops and dizzying color to the ship's stunning appearance.
A popular trend that keeps increasing
As in other parts of the world, cruising in Australia continues to grow. Last year, more than 1 million Australians went on an ocean cruise, up 14.6 percent over 2015.
Most cruisers visit the South Pacific (over 36 percent of the Australian market). The second-most popular cruise is along Australia's coast - a route the Pacific Dawn is scheduled to take.
Cruises are most popular among Baby Boomers (40 percent), though a growing number of younger people (under age 40 and likely with families in tow) are joining the seniors' ranks. Most cruises take eight to 14 days, with the average being about 10 days. Many of Pacific Dawn's cruise average around three days for extended weekend experiences.
More on P&O Cruises Australia
P&O Cruises Australia is a British-American-owned cruise line with corporate headquarters at Carnival House in Southampton, England, and operational headquarters in North Sydney, New South Wales, Australia. The sister company of P&O Cruises in the United Kingdom, it was previously a constituent of the Peninsular & Oriental Steam Navigation Company and has a direct link in history to the world's first passenger ships. As such, it is one of the oldest cruise lines in the world and now forms part of the Carnival Corporation & PLC under the executive control of Holland America Line. It currently operates five ships, sailing from various ports in Australia and New Zealand.
More on Polin Waterparks
Polin was founded in Istanbul in 1976 and has since grown into a leading company in the waterparks industry. Today Polin is a world leader in the design, production and installation of waterparks, waterslides &and water-play attractions. Polin has completed 2,500 waterpark projects in 100 countries around the world and is the biggest waterslide supplier in Eurasia. Working with a wide variety of clients has helped Polin reach several milestones including installing the first waterparks in many countries and many other award-winning rides at parks with world-renowned reputations.