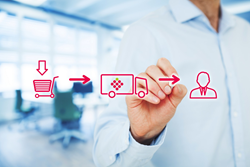 Domestic carrier is one of key partners for tangible progress of crossborder sales
(PRWEB) April 14, 2017
Analysts of Boxberry highlight the factor of profitable costs in American stores. In 2016 the total number of orders delivered by Boxberry from abroad to Russia twice exceeded the comparable figure in 2015. The reason is also that many domestic goods are much more expensive or not sold at all. Moreover, now foreign sellers can offer customers direct shipping to Russia at reasonable prices. In particular, Boxberry provides low-cost delivery to 1,200 offices in 324 cities. Along with this, the company's regional network grows constantly : over the past year the number of parcel offices has more than doubled. According to the estimates of Data Insight research agency, Boxberry now ranks #3 in terms of the number of parcel offices in Russia, outperforming other logistics companies. Leaders in terms of the number of pickup points are networks of mobile phones stores where parcel pickup is available. However, these companies do not have their own logistics.
Most of the overseas orders are delivered by Boxberry from the USA and Europe. Russians buy mainly cosmetics, vitamins and food additives. Last year this merchandise category accounted for almost 900 thousand shipments. Also buyers are interested in sports goods, gadgets and spare parts.
Russian women make purchases in foreign online stores more often than men. According to the Boxberry data, 79% of foreign orders were placed by women in 2016. A male half of buyers account for only 21% of purchases.
The average declared value of an order from a foreign online store, according to Boxberry research, is $73. This is 30% more than the average cost of purchases made in Russian online stores.
Almost half of buyers (48%) receive one shipment from foreign online stores per year. Twice a year 19% of Russians make purchases abroad and 24% are regular buyers of American and European online marketplaces.
These are residents of Moscow and St. Petersburg who buy abroad most massively. Leaders in the number of parcels received are also cities of Ekaterinburg, Krasnodar, Ufa and Novosibirsk.