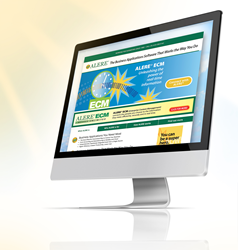 Our new microsite makes it quick and easy to see how ALERE Business Applications can help manage businesses more efficiently and effectively.
Easton, PA (PRWEB) April 21, 2017
ALERE Business Applications has launched a new microsite, http://www.alerebusinessapplications.com, to provide customers and other visitors with a quick, concise summary of ALERE's extensive features, benefits and capabilities. Offered by TIW Technology, Inc., ALERE is a leading business applications software package that can include Accounting, Manufacturing, CRM, Data Acquisition and other modules as part of one high-productivity business solution.
"We developed our new microsite to make it quick and easy to see how ALERE Business Applications can help manage businesses more efficiently and effectively," says Rod Hatcher, President, TIW Technology, Inc. "It features all of our module capabilities and ALERE's ability to give employees, customers and others customized, permission-based access to a company's ERP data using smartphones, tablets and other mobile devices."
The ALERE microsite focuses on four main sections: what ALERE is, who ALERE is for, how ALERE works and find out more. Each section provides succinct functionality and benefits information that tells the users what they want to know. With just a click or two, users can access more detailed topic information, screen shots and client testimonial videos.
ALERE's recently released version 11.0 comprises a full range of business applications that includes ALERE Accounting, Manufacturing, InTouch CRM, Mobility, Data Acquisition, ALERE Cloud and others. Each module can be integrated into a comprehensive suite of applications or utilized on its own, depending on the business's needs. In either case, ALERE is recognized for being a cost-effective solution that delivers unparalleled capabilities and value.
"While our new microsite does a great job of giving businesses and others an understanding of what ALERE does and why it is an excellent choice for business applications software, it cannot tell the whole story," says Hatcher. "Additional information can be downloaded, an online tour of ALERE is available, and our representatives welcome the opportunity to further discuss a company's needs."
Learn more about ALERE and connect with an ALERE professional at http://www.alerebusinessapplications.com.
Since 1983, TIW has been providing software solutions for businesses. Clients, who range in size from small operations all the way to world-class corporations, rely on applications from TIW. They do so because of the considerable experience that is used by TIW to develop sophisticated accounting and manufacturing products designed to fit the needs of their business. The TIW focus is on solving functional problems that are roadblocks to growing companies. TIW does this by placing an emphasis on the details that make day-to-day activities run smoothly. This approach is best exemplified in the ALERE Accounting product, which breaks new ground by incorporating functionality that, before now, has simply not been available to business users.