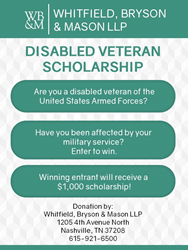 Nashville, TN (PRWEB) April 19, 2017
The Nashville personal injury lawyers at Whitfield, Bryson & Mason LLP are proud to announce the creation of an educational scholarship fund to benefit disabled veterans. This $1,000 scholarship will be in the form of tuition assistance to help offset the cost of higher education. The scholarship will be awarded to two applicants selected by Whitfield, Bryson & Mason LLP.
The entire legal team at WBM LLP has the utmost respect for the men and women who serve in our armed forces. We understand these individuals often serve at the expense of acquiring a higher education. Returning to civilian life and attending college can be incredibly difficult, particularly for disabled veterans. WBM LLP would like to ease the financial burden associated with higher education by awarding this scholarship to two deserving recipients.
Veterans of all branches of our U.S. Armed Forces with a 30% disability rating or higher are encouraged to apply.
To learn more about the scholarship and our law firm or to apply for the scholarship, please visit our website. While applicants are not required to be currently enrolled at the time of application, the scholarship must be used within one year of the award. The scholarship can be used in pursuit of any undergraduate or graduate degree at an accredited university or college. All applications are due no later than January 26th, 2018.
Anyone with questions regarding the scholarship program or the application may contact Whitfield, Bryson & Mason LLP, preferably by email, at:
Whitfield, Bryson & Mason LLP
1205 4th Avenue North
Nashville, TN 37208
615-921-6500
caroline(at)wbmllp(dot)com