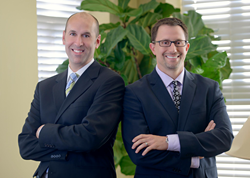 Cornelius, NC (PRWEB) April 12, 2017
Drs. Steven White and Brad Haines, experienced dentists in Cornelius, NC, are honoring Oral Cancer Awareness Month by educating their patients and their community on the importance of receiving regular oral pathology exams from a qualified dental professional. The doctors are now accepting new patients for these screenings at their cutting-edge practice, White and Haines Advanced Dentistry. Their goal is to help as many patients as possible catch the condition early and improve their chances of living a long, healthy life.
Oral cancer is often misdiagnosed as other less severe conditions. With less than 50,000 new diagnoses a year, doctors often assume their troublesome symptoms are related to much more common conditions like persistent canker sores, yeast complications, or TMJ (temporomandibular joint) disorder. It is not until the cancer has progressed that some realize what the real problem is. Some of the most common signs include:

A sore in the mouth that will not heal
Trouble chewing or swallowing
White or red patches on the lining of the mouth, tonsils, tongue or gums
Difficulty moving the jaw or tongue
Numbness in the mouth
Although an oral cancer screening can be completed during regularly scheduled hygiene appointments, Drs. White and Haines understand that many patients may experience dental anxiety that limits their ability to make and attend dental appointments. In order to put their patients at ease, Drs. White and Haines assure patients that screenings can be done comfortably and in a calming environment. Additionally, they offer sedation dentistry treatment that can be customized to each patient to relieve their dental fear during screenings and a variety of treatments.
Patients in need of quality dentists in Cornelius, NC, for an oral cancer screening and a variety of other dental services, may contact Drs. White and Haines for an appointment. Contact their practice, White and Haines Advanced Dentistry by calling 704-896-9535.
About the Practice
White and Haines Advanced Dentistry is a general dental practice offering personalized dental care to patients in Cornelius, NC. Dr. Steven White offers more than 20 years of experience in general and cosmetic dentistry and has served as a mentor at the Nash Institute for Dental Learning and an instructor with the Advanced Aesthetics Program. Dr. Brad Haines was named a Top 40 Dentist Under 40 in Incisal Edge Magazine and brings more than a decade of experience in general and cosmetic dentistry. Drs. White and Haines strive to understand each patient's unique set of goals to help them reach a healthy smile and they are members of the American Dental Association, Dental Organization for Conscious Sedation and Charlotte Dental Society, among many others. To learn more about Drs. White or Haines or the services they offer at their practice, please visit their website at http://www.drswhiteandhaines.com or call 704-896-9535 to schedule an appointment.