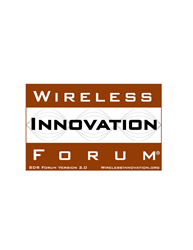 Washington, DC (PRWEB) April 13, 2017
The Wireless Innovation Forum today announced the publication of a new document created by its Spectrum Sharing Committee (SSC) that specifies the Priority Access License (PAL) Database schema as per requirements included in Part 96 of the FCC's Telecommunications Regulations. The PAL database, populated and maintained through cooperation between Spectrum Access System (SAS) administrators, represents the results of a "quasi-static" channel assignment process to be followed after PAL auctions, for the purposes of assigning PAL holders predictable and contiguous channels within the CBRS band.
The PAL database will consolidate information about the auctions from the FCC, and subsequently SAS Administrators will update the PAL Database following any relevant activity (including any needed error resolution) around the state of a PAL, such as issuance, termination, or sale in order to maintain clarity and efficiency in the band. In addition, SAS Administrators will make use of the PAL Database to perform verification of PAL holder rights to the relevant license areas during the separate process for registering PAL Protection Areas (PPAs) [See N.1, R2-SPU-04], and to make consistent channel assignments to CBSDs in the cluster list of that PPA [See N.1, R2-SPU-09].
This specification marks the 6th of 10 that will comprise the SSC's Release 1 which cumulatively will address multiple areas of Part 96 to create harmonization in the 3.5 GHz band:

WINNF-15-S-0112-V3.0.0 Operational and Functional Requirements
WINNF-15-S-0065-V2.0.0 CBRS Communications Security Technical Specification
WINNF-15-S-0071-V1.0.0 CBRS Operational Security Technical Specification
WINNF-16-S-0016-V2.0.0 SAS to CBSD Protocol Specification
WINNF-16-S-0096-V2.0.0 SAS to SAS Protocol Specification
WINNF-16-S-0061-V1.0.0 SAS Test and Certification Specification
WINNF-17-S-XXXX-V1.0.0 CBSD Test and Certification Specification
WINNF-17-S-0022-V1.0.0 CBRS PKI Certificate Policy
WINNF-16-S-0247-V1.0.0 CPI Standard
The roadmap of specification production can be found on the group's committee page: http:// http://www.wirelessinnovation.org/spectrum-sharing-committee.
The Wireless Innovation Forum's Spectrum Sharing Committee was specifically formed to develop the solutions and standards that will encourage rapid development of the CBRS ecosystem, protect incumbent operations, and benefit all potential stakeholders in the band. The SSC benefits from participation of a broad-based group that includes wireless carriers, network equipment manufacturers, potential SAS Administrators, satellite operators, existing 3650-3700 MHz band licensees, and other parties with an interest in the 3550 MHz band. The committee has formed multiple sub-groups/task groups, including a Joint WG1/WG3 architecture group and an FSS Incumbent Protection Subgroup under WG1. Participation in the committee's multiple sub-groups/task groups currently encompasses some 277 participants from over 60 different organizations. All work products from the committee can be found here: http://www.wirelessinnovation.org/ssc-public-files.
The Wireless Innovation Forum welcomes all interested organizations to participate in our committees. To learn more about membership options or to apply for membership in the group please visit: http://www.wirelessinnovation.org/join.