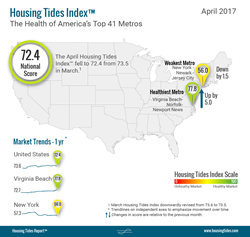 At 72.4, the Index shows the U.S. housing market remains strong even with a rise in the construction sector unemployment rate and tight housing supply.
Denver, Colorado (PRWEB) April 13, 2017
This week marks the release of the April Housing Tides Report™, featuring an update to the Housing Tides Index™, an objective and sophisticated approach to quantifying and comparing the health of U.S. housing markets. At 72.4, the Index shows the U.S. housing market remains strong even with a rise in the construction sector unemployment rate and tight housing supply.
Understanding the health of a housing market and its relationship to other top markets requires an aggregated, comprehensive view of the industry. The Housing Tides Index provides a succinct monthly measure of market health across the top 41 U.S. markets. Referencing 18 market indicators ranging from unemployment rates and housing permits to rental vacancy and mortgage foreclosure rates, the Tides Index helps users understand exposure at a deeper level than is currently possible.

The construction unemployment rate rose to 9.4% in January, up considerably from a 4.5% rate in June 2016. It's difficult to reconcile the reported construction unemployment rate with the tales of labor scarcity coming from the industry in recent years, though part of the disconnect may be due to the grouping of workers into the larger construction supersector; for instance, there may be a relative surplus of unskilled laborers and a simultaneous shortage of skilled tradespersons, a distinction that isn't made in the overall rate.
Median asking rents for two-bedroom units increased nationally in January to $1,536 per month, contributing in part to the fall in this month's Index value. Moreover, asking rents increased in 37 of the 41 major metropolitan areas covered by Housing Tides.
Housing inventory remains below our healthy target of six months of supply, and with only 678k homes on the market in February this represents just four months of supply at the current sales rate. For-sale inventory is down 12.9% from February 2016 when there were over 100k more homes on the market.
The U.S. unemployment rate fell to 4.9% in February after increasing to 5.1% in January. We interpret this level of unemployment as balanced between supporting wage growth while enabling employers to find needed workers.
Highlighting the Ten Healthiest U.S. Housing Markets - April, 2017 - Please reference the attached graph to view the Ten Healthiest U.S. Housing Markets.
Click here to view the complete Housing Tides Index of the top 41 U.S. markets.
Media Exclusive! Housing Tides Monthly Pulse
Subscribe to our email service exclusively created for media that delivers an updated infographic depicting the latest monthly Housing Tides Index, the complete Index as it appears in the Housing Tides Report™, and a brief executive summary. All content can be shared in print and digital publications, with attribution to the Housing Tides Report.
Members of the media can subscribe to the Housing Tides Monthly Pulse here.
About Housing Tides
Housing Tides™ ("Tides") is the only monthly report that provides a comprehensive measure and aggregated understanding of the health of the U.S. housing and home building industry. Designed to take the guesswork out of the vast amount of forecasting information published about this sector, Tides is a sophisticated report that delivers city-specific, updated information when market conditions change. It is the only report that uses natural language processing and machine learning to correctly understand and synthesize large volumes of data, making it more comprehensive, balanced, and reliable than any other report of its kind. More information is available at http://www.housingtides.com.
Housing Tides is proudly partnered with IBM Watson®.