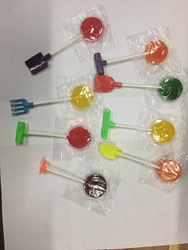 PLAY VALUE: ToyPops from Parisi Vending Co. combine a familiar lollipop, in five flavors, with a toy tool in eight styles, for immediate and enduring enjoyment.
OCEANSIDE, NY (PRWEB) April 14, 2017
Parisi Vending Co. Inc. is introducing a line of wrapped lollipops with toys attached to the sticks styled to resemble miniature tools. The company is also testing a vending machine for them.
According to owner Frank Parisi, the "ToyPop" concept dates back to 1952, when they were introduced by bulk vending pioneer Eppy Charm Co. which was purchased by the Parisi family in 1973. Parisi, who was inspired by the nostalgic chicken-egg concept to manufacture and market the All American Chicken Machine, reported that he remains on the lookout for "once-successful products that made an impact on the amusement, bulk vending and candy industries," and the ToyPops were obvious candidates.
ToyPops were initially designed as premiums for operators to give away to store owners, to foster loyalty and build goodwill. "From there, operators started to use them as a profit center when servicing their locations," the second-generation operator/manufacturer explained. A vendor serving the local civic club, doctors' offices, banks, barbershops, restaurants, supermarket and discount store with gumball machines would sell the ToyPops to the locations, whose management either would give them away to young children accompanying their parents, or sell them over the counter.
"Today, these ToyPops can also be used in candy crane mixes, dedicated crane machines, honor boxes and so much more," Parisi continued.
Parisi ToyPops are supplied in 1,000-ct. bulk cases. A 36-ct. retail box for over-the-counter goods is under development, as are several other packaging options for a wider range of sales opportunities. The company's new lollipop vending machine in development will be animated.
Parisi Vending Co. has been in the children's gum, candy and toy route operations business since 1994, when Frank placed his first gumball machine in his local barbershop. The equipment developed by the company is designed for initial use on Parisi's own routes. Its machines are distributed to the amusement and bulk vending industry. The lollipop machine prototypes are undergoing this process, as did the All American Chicken Machine.
That leadoff vender currently can be found in retail stores in many parts of the world. It's operated as a private-label custom machine in the Golden Chick fast-food chain, including its stores in Pakistan.
Parisi's first ToyPop line contains eight miniature tools in assorted colors; several other toy assortments are on tap for the future. The lollipops come in five assorted flavors and are kosher. The toys are manufactured and assembled in the United States.
They can be purchased direct or through local distributors and candy brokers, which are being appointed. Prospective distributors and candy brokers wishing to handle Parisi ToyPops can call (516) 678-3600 or email fparisi(at)parisivending(dot)com.