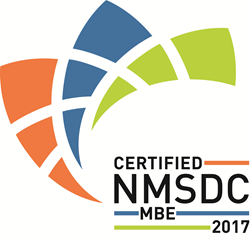 We are very excited to become a member of the NMSDC.
San Diego, CA (PRWEB) April 14, 2017
Webbege, a San Diego Web Design and San Diego SEO company specializing in WordPress development, announced that they have been certified as a Minority Business Enterprise (MBE). The MBE certification was conferred to the company by the Pacific Southwest Minority Supplier Development Council, a branch of the National Minority Supplier Development Council (NMSDC). The approval process required in-depth reviews of Webbege's socioeconomic status, in-person interviews, and background checks with the company's listed references. With the designation, Webbege joins a national network of MBEs with increased opportunities to connect and do business with NMSDC corporate partners.
The NMSDC is a national leader in corporate membership with the goal of connecting MBEs with corporate partners looking to do business. The Council maintains an impressive list of over 1,700 clients from the public and private sectors, as well as over 12,000 MBEs. With such an expansive network, the NMSDC helps certified minority-owned businesses reach larger levels of growth.
Of the company's recent business certification, Webbege President Frank Geraci said, "We are very excited to become a member of the NMSDC. We appreciate the opportunity that the certification provides to develop strong relationships with the NMSDC and their corporate partners. Webbege has a heritage focused on developing and promoting diversity in business. We are grateful to join such a vibrant business community."
Webbege was founded with the belief that business starts with relationships built on trust. The company takes this approach to cultivate both client and employee confidence. Keeping in mind that business relies on long-term relationships, Webbege keeps in continuous contact with their clients, partners and vendors in the local community and across the nation. As Webbege continues to grow, the company looks forward to developing relationships with their new NMSDC corporate members and fellow minority-business owners.
About Webbege, Inc
Webbege is a Digital Service Agency based in San Diego, CA. Founded in 2009, Webbege has worked with both local and national clients to design responsive websites using WordPress and custom-built WordPress modules. The company also works with businesses to create effective brands and increase revenue and leads through online marketing. Webbege is proud to be a HubSpot Silver Certified Agency Partner.
Frank Geraci
Webbege, Inc
(619)-786-7075
7851 Mission Center Ct, Suite #108, San Diego, CA