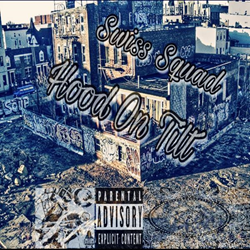 New York, NY (PRWEB) April 13, 2017
Swiss Squad is an American Hip Hop group from Brooklyn, New York. This group was formed by 2 rappers known by the stage names Dizz and Barzini in 2009. The name Swiss abbreviated is Swag With Intelligence Smooth Souls. Swiss Squad is a group that was created to speak on the struggle and lifestyles in their community. From 2009 to present Swiss Squad has made numerous amounts of songs and videos and built a fan base through social media. In 2014 a rapper known by the stage name Castro joined the Swiss Squad and started working on mixtapes with Dizz and Barzini.
From 2015 to present Swiss Squad has been releasing songs on soundcloud and reverb nation building a reputation for their unique style in music. Combining three different flows, Dizz, Barzini and Castro were able to record on different styles of beats to show their true lyricism and passion for music. Swiss Squad is now promoting a project with the mixtape called "Run It Up" with singles such as "Fendi Facts," "Run It Up X3" and "Hood On Tilt."
"Hood On Tilt" is a single that was released March 2017 on soundcloud. This song contains two Swiss Squad members, Dizz and Barzini where they use their lyrics to express fashion and the lifestyle in their neighborhood. The new single is currently available online to stream and download at Coast 2 Coast Mixtapes.
About Coast 2 Coast Mixtapes:
Coast 2 Coast Mixtapes are the most widely distributed mixtapes in the world, with over 100 million downloads/plays generated by over 300 volumes officially hosted by major artists. Coast 2 Coast has a solid reach in the new music industry with a digital magazine, DJ coalition, industry tips blog, yearly convention, and more. Coast 2 Coast Mixtapes represents a unique opportunity for artists of all urban genres, from major to indie. For more information, visit http://www.coast2coastmixtapes.com