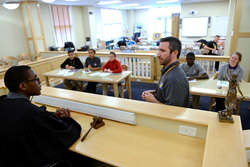 "It is never too early to learn how to respond to an emergency," said MHS Career and Technical Education Director Dave Curry.
HERSHEY, Pa. (PRWEB) April 13, 2017
During National Volunteer Month in April, Milton Hershey School® and the Pennsylvania Emergency Management Agency (PEMA) are sharing their partnership to emphasize the importance of training volunteers so they can properly assist in emergency situations in their communities. Through Milton Hershey School's award-winning Career and Technical Education (CTE) program, PEMA team members prepare students in the school's Law, Public Safety & Security career pathway to earn the Community Emergency Response Team (CERT) certification—building a stronger community of emergency volunteer responders.
"Disasters involve entire communities. The PA CERT program is a terrific way to have community members ready to help when disaster strikes. When we prepare together, we are better able to recover together," said PEMA Director Richard D. Flinn Jr. "We always look forward to working with Milton Hershey School students and are honored to be a part of the school's commitment to preparing their students."
MHS and PEMA have collaborated since 2013 to CERT certify more than 100 students. Each school year, PEMA staff visit a Law, Public Safety & Security class every school day for four consecutive weeks to lecture and provide direct training to students. At the end of the four weeks, students complete a written exam and hands-on exercises to earn their certification. This February, 22 MHS students received the designation.
"It is never too early to learn how to respond to an emergency," said MHS Career and Technical Education Director Dave Curry. "Many students in this career pathway are pursuing careers in which they could be the first responder to an emergency situation, so they take this training very seriously. The certification gives them the confidence and knowledge to respond quickly in a real-life situation."
CERT training includes disaster preparedness, disaster fire suppression, basic disaster medical operations, and light search and rescue operations. Should an emergency arise, CERT-trained student volunteers are prepared to give critical support to first responders and provide immediate assistance to victims.
The certification is one of more than 70 industry-recognized certifications MHS students are able to earn through the school's CTE program. For the last seven years, 100 percent of graduating seniors earned at least one industry-recognized certification in their field of study.
Milton Hershey School is committed to providing students and staff with a safe and secure environment. Earlier this year, MHS became the first pre-K through 12th grade residential school to achieve Commission on Accreditation for Law Enforcement Agencies (CALEA) status for its campus safety and security measures. In addition, National Weather Service officials awarded Milton Hershey School a StormReady Community designation for demonstrating its ability to handle weather emergencies.
# # #
ABOUT MILTON HERSHEY SCHOOL
Milton Hershey School® is one of the world's best private schools, offering a top-notch education and positive home life to children in pre-kindergarten through 12th grade from families of lower income at no charge. Learn more at mhskids.org.