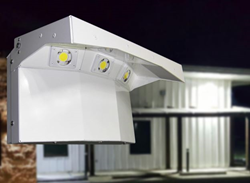 We're excited to be offering a version of this new product that includes an integrated battery back-up.
Georgetown, Texas (PRWEB) April 13, 2017
ActiveLED, Inc., a U.S. based innovator and manufacturer of performance LED lighting luminaires, announced today that it has formally introduced the WP2 Series LED Wall Pack Luminaires. These compact fixtures offer highly engineered optics and a sleek contemporary design ideal for security, pathway and perimeter lighting. With 150 Lumens per Watt and 5,861 Lumens, the 39 Watt, WP2 Series Wall Pack provides nearly 1,000 sq. ft. of light coverage. The fixtures come with a full 10 year, No-Light-Loss Warranty - providing building owners with over a decade of energy and maintenance savings. Applications include: Warehouse, Retail, Industrial, and Commercial Locations. LEARN MORE HERE
"We're excited to be offering a version of this new product that includes an integrated battery back-up," says Brian Beckstead, Product Manager for ActiveLED. "This option couples the fixtures' incredible light output with the safety and performance to deliver an incredible 3 hours of full operation ability in the event of an AC power failure."
The WP2 Series Wall Packs come standard with a built-in Dawn-to-Dusk Sensor ensuring that lighting is turned on only when and where it's needed. These fixtures are also available with Motion Sensors that can provide the added benefit of Real-Time Deterrence; instantly bringing lights from an off or dimmed level to full when motion is detected. These fixtures are also Dark Sky compliant and feature LUM-INTENSE, LED lighting luminaire technology that combines recent advancements in LED Modules, Drivers and Optics to deliver more Lumens per Watt in a smaller package.
The WP2 Series Wall Pack Luminaires are available now for purchase. Learn more HERE or online at ActiveLED.com. You can also contact us directly at 888-288-9080.
About ActiveLED
ActiveLED, Inc. is a subsidiary of Ringdale Industries and designs, manufactures and assembles high performance LED lighting luminaires in America. ActiveLED is based in the United States with offices in the United Kingdom, France, Japan, and Singapore.