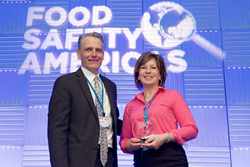 The idea for this award was initiated by BRC Global Standards CEO, Mark Proctor, to recognize the certification body whose work resulted in the greatest new business growth.
Fairfield, IA (PRWEB) April 13, 2017
Cert-ID is proud to announce that they've been awarded the inaugural CEO award for 2017 by BRC Global Standards. Cert ID VP Business Development Joan Moeller accepted the award at the BRC Global Standards Food Safety Americas Conference in Orlando.
This award is a recognition of the exemplary work delivered by Cert ID throughout North America over the past twelve months, including assisting BRC Food Safety certificated sites in North America demonstrate that they are 'FSMA Ready' by delivering the FSMA Preventative Controls Module.
According to BRC Global Standards CEO, Mark Proctor: "It was a pleasure to deliver our first ever CEO award to Joan Moeller representing Cert-Id. I initiated the award to recognize our certification body partner whose work resulted in the greatest new business growth."
The measures to determine this award include both certification and additional module delivery, with the highest business retention rate. This combination represents the best use of the BRC Global Standards suite of products to drive operational excellence in the food industry.
Added Proctor, "It was a pleasure to recognize the great work the Cert ID team consistently delivered throughout the year." Having a partner such as Cert ID is a major benefit to the BRC, as well as having a significant impact on the safe delivery of food throughout the industry."
Cert ID is a subsidiary of The Global ID Group, which together with Genetic ID and Food Chain ID, provide a comprehensive suite of food testing, food certification and supply chain compliance software and service solutions.
About Cert ID
Cert ID (http://www.cert-id.com) is a global leader in food safety certification since 1999 specializing in GFSI Schemes, BRC and SQF certification. Cert ID also provides: GLOBALG.A.P., and HACCP services; Gluten Free, Non-GMO, and Proterra Certification; Costco Audits; BRC Issue 7 Requirements, BRC Storage and Distribution, and its proprietary Cert ID certification.
About The Global ID Group
Global ID Group (http://www.global-id-group.com) is an integrated food safety and quality company serving more than 15,000 clients in over 100 countries via market leading solutions for the rapidly evolving food industry. Global ID Group companies include: Genetic ID - an ISO 17025-accredited-testing laboratory, Cert ID - an administrator of GFSI-benchmarked food safety and quality certifications, and Food Chain ID - the leading provider of technical services in non-GMO verification and ingredient supply chain, food label review, and regulatory compliance.