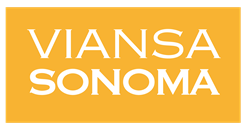 San Francisco, CA (PRWEB) April 13, 2017
Viansa Sonoma will host a "Bluebirds and Bubbles" event on the afternoon of May 7, 2017 to showcase the wildlife inhabiting the 97 acres of restored wetlands at the winery. Visitors will get to learn about the local wildlife and ecosystem of the wetlands and help build birdhouses for the resident bluebirds while enjoying light bites. Throughout the festivities, ticketholders (21+) will also have the opportunity to taste a selection of Viansa Sonoma wines, including the property's Reserve Blanc de Noir sparkling wine.
Nature lovers of all ages are invited to enjoy an afternoon of fun while learning about the stunning Viansa Wetlands from the experts at Sonoma Birding, Sonoma Land Trust, and Ducks Unlimited who will be hosting education booths. This free community event is scheduled for Sunday, May 7th, 2017 from 2 p.m. to 4 p.m. at the property in Sonoma. Reserve your tickets for this celebration at the following link - http://www.viansa.com/bluebirdsandbubbles.
Scheduled activities are as follows:
2:00pm Guests Registration
2:15pm Educational Presentations/Booths
2:45pm Birdbox assemble (limited quantity; first come first serve basis)
3:30pm Raffle Drawing
4:00pm End of Festivities
Due to the efforts of the Viansa team, the property's wetlands have restored levees for better water retention and re-enforced multiple water control structure to direct and maintain water levels year-round resulting in a surge of waterfowl activity in the surrounding area. Join the Viansa team in celebrating the Viansa Wetlands and support awareness for the importance of land stewardship in Sonoma County.
About Viansa Sonoma: Viansa Sonoma is open every day from 10:00 AM to 5:00 PM. For information on the visitor experience at Viansa Sonoma check out http://www.ViansaSonoma.com or call 800.995.4740. For additional information about Viansa or Vintage Wine Estates, contact Mary Ann Vangrin at mvangrin(at)vintagewineestates.com or Stephanie Peachey at speachey(at)vintagewineestates.com.