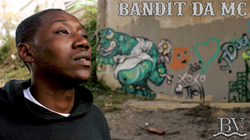 Wilmington, NC (PRWEB) April 13, 2017
Bandit Da MC, better known as Charles Jacobs, is from Wilmington, NC (The Port City) . This young man is 27 years old and has been grinding hard with Coast 2 Coast for over a year now. Not only is this man an artist, he is also a college student at Cape Fear Community College Majoring in Business. Bandit himself would tell you that Wilmington artist are great! Everyone from the men to the women who utilize their time to perfect their own music no matter what genre have potential.
Bandit has devoted himself to mastering the art of becoming a true master of ceremony (MC). Before Bandit came on board with Coast 2 Coast he was just a student who had planned to do music as a prospective goal after he graduated college. Coast 2 Coast gave him that extra push as if his moment was looming. He vividly remembers listening through 9th Wonder instrumentals to compose his mixtape, Stolen City. Coast 2 Coast has surrounded him with talented producers and allowed him to discover and hone his own sound. Bandit's original Hip-Hop style blending with trap beats provides excitement and execution. Bandit believes the Boom Bap sound lives on and will one day return to mainstream prominence.
Bandit has been composing several projects since 2017 kicked off. His most recent project, Stolen City, has been gaining notoriety on the internet, garnering attention from sites such as This Is 50 and I Am Hip Hop. Bandit was also featured on Coast 2 Coast Mixtape Volume 324, Hosted by Troy Ave as well as several other mixtapes released under Coast 2 Coast. He recently worked with DJ Young Cee featuring on the following mixtapes, including Record Labels Need Me Vol 77, 95, 98, and 99. Bandit's latest project is his song 420 that is being promoted by coast 2 coast and will be on an upcoming mixtape hosted by DJ Young Cee as well. He most recently dropped his latest music video for the single, "What I'm About". The video is out now and currently can be viewed in its entirety on Coast 2 Coast Mixtapes.
About Coast 2 Coast Mixtapes:
Coast 2 Coast Mixtapes are the most widely distributed mixtapes in the world, with over 100 million downloads/plays generated by over 300 volumes officially hosted by major artists. Coast 2 Coast has a solid reach in the new music industry with a digital magazine, DJ coalition, industry tips blog, yearly convention, and more. Coast 2 Coast Mixtapes represents a unique opportunity for artists of all urban genres, from major to indie. For more information, visit http://www.coast2coastmixtapes.com