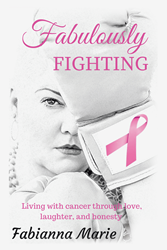 BOSTON (PRWEB) April 17, 2017
Twelve years ago, 27-year-old Fabianna Marie became a mother and thought her life was falling in to place, but the diagnosis of lupus proved otherwise. The landslide of appointments and surgeries led to the finding of BRCA1 positive, triple-negative invasive breast cancer.
When she was first diagnosed with breast cancer, Marie found herself frantically searching for a book that wasn't full of medical jargon and scary scenarios. With the desire to find a book that would help her understand how to get through each day with cancer, Marie shares that there is more to life than having cancer in "Fabulously Fighting."
"My book shows readers how to put one foot in front of the other and remain positive in the face of adversity," said Marie. "I wrote 'Fabulously Fighting' to assure other fighters that battling this disease in 99 percent mind frame and staying positive."
Although she is still living with cancer, Marie continues to fight and has not given up. "Fabulously Fighting" is an uplifting read as Marie shares the story of her lengthy journey and what it has taken her to overcome doctors signing her death certificate.
Readers will be moved and inspired as Marie shares her inspirational story about how she's learned to live each day with love, laughter, and honesty.
"Fabulously Fighting"
By: Fabianna Marie
ISBN: 978-1-5246-4720-9 (sc); 978-1-5246-4718-6 (hc); 978-1-5246-4719-3 (e)
Available on AuthorHouse, Barnes and Noble and Amazon
About the author
Fabianna Marie is a national speaker and shares her story at cancer charity and fundraising events as a part of the national ad campaign for the Avon Walk for Breast Cancer. She has raised over $100,000 for cancer research. An award-winning photographer, speaking and writer, Marie has certifications in raw, vegetarian, and vegan cuisine and naturopathic healing. Marie resides in the Granite State with her husband, David and their daughter, Mackenzie.
###
Review Copies & Interview Requests:
LAVIDGE – Phoenix
Courtney Coombes
480-998-2600 x 612
ccoombes(at)lavidge(dot)com
General Inquiries:
LAVIDGE – Phoenix
Maggie Driver
480-998-2600 x 584
mdriver(at)lavidge(dot)com