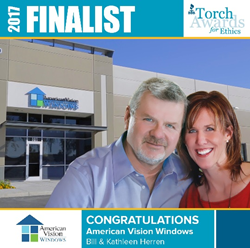 American Vision Windows is committed to "Revolutionizing the home improvement industry one customer at a time, while changing the lives of our employees for the better."
Phoenix, AZ. (PRWEB) April 14, 2017
Better Business Bureau serving Central, Northern, and Western Arizona (BBB) names American Vision Windows one of 15 Arizona companies selected as finalists for the 2017 Torch Awards for Ethics. Five of the 15 companies will be named winners in their category during the awards dinner and ceremony Wednesday, April 12 at the Arizona Biltmore Resort.
One of the Category V finalists, American Vision Windows, began in California but has already earned an excellent, ethical reputation at their Arizona location—an A+ rating with the Better Business Bureau for customer service. The window replacement company began when the owners, Bill and Kathleen, hired a contractor to install windows in their own home. Their experience was miserable: the contractor installed flimsy windows other than the ones he had advertised, took much longer than advertised, then quickly shut the business down and was impossible to contact.
After their own completely unethical experience, Bill and Kathleen are now devoted to providing honest, professional, and morally upstanding services to the families that they work with—and now thanks their team for continuing to provide upstanding service.
American Vision Windows has been in business for over fifteen years, and has continued to uphold their goal of transforming the home improvement industry, and the lives of their employees, through ethical business practices. The American Vision Windows team members are known for their professionalism, excellent training, and friendliness—which are major factors in their eligibility for the 2017 Torch Award for Ethics.
The BBB Torch Awards for Ethics were established in 2002 to recognize outstanding businesses that maintain a solid commitment to ethics and trust in the marketplace.
Companies are selected by an independent panel of volunteer community leaders based on criteria established by the Council of Better Business Bureau's International Torch Award.
All finalists were first nominated and after meeting minimum criteria, proceeded to complete an evaluation where they had to demonstrate their commitment to ethics in five categories:
1. Leadership's Commitment to Ethics
2. Communication of Ethical Practices
3. Organizational Commitment to Ethical Practices
4. Organizational Commitment to Performance Management Practices
5. Organizational Commitment to the Community
Known for upholding high ethical standards, this year's finalists join over 200 local businesses part of BBB's community of trustworthy businesses," said Dory Gosar, BBB Foundation Director. "Doing the right thing is not always easy and these companies have demonstrated a commitment to ethical practices even in the most difficult times."
View a complete list of this year's BBB Torch Awards for Ethics Finalists at
torchawards.arizonabbb.org.
About American Vision Windows
American Vision Windows is a window installation and replacement company serving California and Arizona. It began over fifteen years ago, and was founded by Bill and Kathleen after their own unpleasant window replacement experience. Now, American Vision Windows is committed to "Revolutionizing the home improvement industry one customer at a time, while changing the lives of our employees for the better." Visit us on Facebook.
About Better Business Bureau
Serving Central, Northern & Western Arizona
For more than 100 years, Better Business Bureau (BBB) has been helping people find businesses, brands and charities they can trust. In 2015, people turned to BBB more than 172 million times for BBB Business Reviews on more than 5.3 million businesses and 11,000 charities, all available free at bbb.org. Incorporated locally in 1938, BBB serving Central, Northern and Western Arizona serves 10 counties through its campuses in Phoenix, Lake Havasu City, Prescott and Yuma, supported by over 11,500 BBB Accredited Businesses. Businesses that earn BBB Accreditation contractually agree and adhere to high standards of ethical business practices. BBB provides objective advice, free business and charity profiles, and educational information on topics affecting marketplace trust.