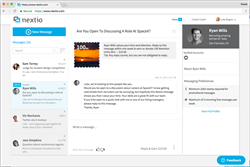 "Nextio introduces a bold new concept that attention, not information is the new unit of currency in the digital age." - Nextio CEO and Co-Founder Anoop Gupta
Seattle, WA (PRWEB) April 13, 2017
Nextio, a new professional messaging platform, launched today to empower users to easily find and message people outside their immediate networks, while also compensating them – or their favorite charity – when they respond to promotional messages. Founded by Microsoft and industry veterans Anoop Gupta and Aravind Bala, Nextio introduces a bold new concept that attention, not information, is the new unit of currency in the digital age. In addition to giving users a spam-free public messaging address, Nextio also provides professionals with rich data to help power their career journey.
"As information becomes free and communication becomes cheap and pervasive, the scarcest resource for all of us is our attention," said Charlene Li, Principal Analyst at Altimeter. "There is an opportunity in the marketplace to turn the tables and place the control and monetization of attention back in the hands of end users."
To get started with Nextio, professionals simply choose a messaging-handle and set up a profile with their messaging preferences. These preferences are visible to senders up front and they must comply to send free professional messages. If a company or marketer wants to message professionals for promotional reasons, they pay for that communication, just as they would for an advertisement to target someone very specific. Except, with Nextio, the money goes to the recipient – not the middleman. Professionals are free to set the price for their time and attention – and have the option to keep the money they make, or donate it to a charity of their choosing.
"Today there is no easy way for professionals to start conversations beyond their immediate networks of co-workers and friends," said Nextio CEO and Founder Anoop Gupta. "Too much of the control and value is going to LinkedIn and other middlemen who sell your profile and contact information to recruiters and marketers, while you receive more spam than actual opportunities. At Nextio, we take a fundamentally different approach where professionals are compensated for their time and attention, while also maximizing their potential opportunities."
Today, Nextio is also launching a public beta of Nextio Career Insights. Leveraging machine learning, it has pre-analyzed the public profiles and career transitions of millions of people to provide users with a personalized landscape of career opportunities, beyond what is available on job boards or through existing networks. Users can learn about the aggregated experience, skills, education and past roles of real people in any role they're interested in. Given their resume, Career Insights provides a unique compatibility report with actionable insights to increase their chances of landing the role. Combined with Nextio's messaging capabilities, Career Insights offers an end-to-end experience for career planning and connecting with people who can help further careers.
"Like a Zillow for careers, we're empowering professionals with data, insights and knowledge about companies, people and positions, as well as an open network to find the best opportunities," said Nextio Co-Founder Aravind Bala. "Researching potential jobs you're interested in can be an exhausting process that often results in more questions than answers. With Nextio Career Insights, you are able to see all of the opportunities available, backgrounds and skills needed for your dream jobs whether Tesla Design Engineer, NASA Astronaut, or Facebook Software Engineer, and actionable insights to help you realize those dreams."
For more information and to sign up free for Nextio's public beta, visit http://www.nextio.com, and make sure to grab your desired messaging handle before it is taken.